Farringdon business lunch: Where to take your client

Influential, vibrant and bustling with businesspeople, food-lovers, creatives and shoppers alike, Farringdon is a fashionable district in which to work and live.
Considered one of the best-connected areas in London – boasting the world's first Underground station – Farringdon has undergone significant investment in recent years to improve its appeal to the business goers of our capital. And of course, it has still managed to retain the history, charm and character that makes Farringdon so special. But with so much going on, and so much business to do – a lunch break is in order. 
Grab a bite…
Taking your client to the best restaurants in Farringdon for lunch meetings goes a long way. It takes the pressure off and allows you to build a relationship away from the typical business setting. Business is better done over a tasty lunch.
So, where are the best Farringdon lunch spots? Let's take a look, grab a bite and tuck in…But remember, this isn't an exhaustive list!
What do people look for when choosing a spot for a Farringdon business lunch?
Naturally, the best places for a client lunch in Farringdon will be in close proximity to the area's transport links – notably, Farringdon Underground station. It's all about keeping things easy, simple and streamlined for your client to make the best impression possible.
Now, let's discuss the most important part of this decision – the food! We'll take a guess that if you're taking a client out for lunch, you're looking to impress. Choose somewhere local, rather than a franchise – this shows you've made the effort. Unique, deliciously tasty menus paired with impressive, appealing decor will be just the ticket for making your meal one to remember. 
Similarly, you'll want to ensure the ambience is just right, too. It needs to be somewhere not too noisy, but not too quiet. You want to be able to hear each other talking business and making exciting plans, rather than shout over loud music and a raucous atmosphere.
Either do a recce of the restaurant beforehand to ensure it fits the bill, or have a look into London restaurant reviews for lunch meetings to get a second opinion. Though, we're trying to cut your time with this article, so keep reading for our recommendations. 
Get a good look at the menu selection and ensure it caters for any dietary requirements. It's important to know your guests – the personal touch counts for a lot. For example, you might need to seek out vegetarian restaurants in Farringdon for business lunches. Luckily, most of the restaurants on this list cater for meat-eaters, vegetarians and vegans alike.
In-house, restaurant standard catering from CCT Venues
You don't need to go far for delicious food in Farringdon. While you can step out of the office and head to one of the many London lunch meeting locations, we've got something even better. 
We're here to take away the strain of choosing where to eat. When booking any one of our conference venues, we also offer the option of in-house catering – the perfect way to enjoy restaurant quality meals, all at a price that doesn't put too much strain on your purse strings. 
Whether it's breakfast, lunch, dinner or even canapes and cocktails, served in your meeting room or in one of our breakout areas, our catering packages are second to none. We're here to make sure your day is one to remember, for yourself and your client.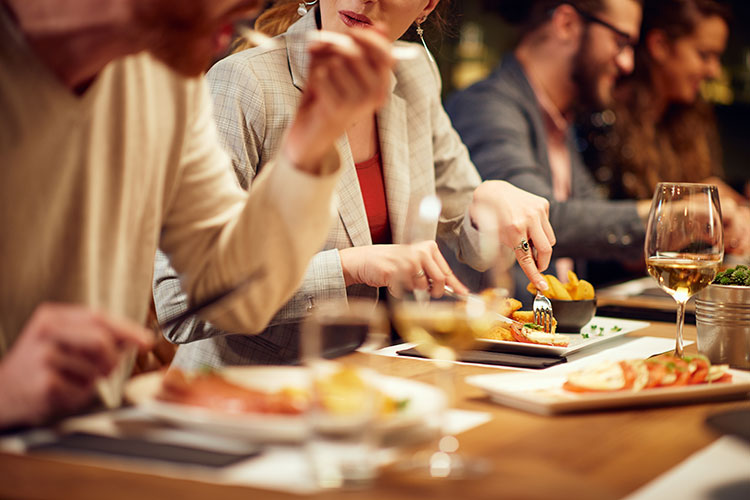 Best places for a client lunch in Farringdon:
The Clerk & Well
Looking for somewhere sleek and stylish with a tasty menu to match? We know just the place.
A trendy lunch spot in Farringdon for clients, The Clerk & Well is one of the oldest pubs in central London. With impressively high ceilings and grand, elegant decor – this isn't your typical London pub.
Enjoy a freshly-prepared menu of delicious dinners, mainly consisting of your favourite pub classics – including pie and peas, fish and chips and a next-level roast dinner. And of course, we couldn't forget the creative menu of signature cocktails if you wanted something to pair with your lunch.
St. John Bread and Wine
St. John Bread and Wine was established back in 2003, just across from Spitalfields Market to house the company's bakery operations. Fast forward to 2023 and St. John's is now a thriving restaurant in the district, one of our favourite Farringdon restaurant recommendations on the list.
With a stripped-back style and a retro-looking exterior, this is a sleek restaurant with a minimalist interior. The decor is simple, but the food sure does pack a punch in terms of flavour.
From their mussels, smoked bacon and laverbread dish all the way to a classic, comforting chicken and mushroom pie – the menu is eclectic, interesting and varied. Whether you want an indulgent delicacy or even a healthy lunch option in Farringdon, St. John Bread and Wine pride themselves on their rotating menus and seasonal ingredients. It's definitely a must-visit. 
And of course, there's plenty of desserts on the menu for those looking to satisfy their sweet tooth. Whether it be an apple crumble, a dark chocolate terrine or the restaurant's signature eccles cake, each treat is indulgent, moreish and sure to leave your client happy and full.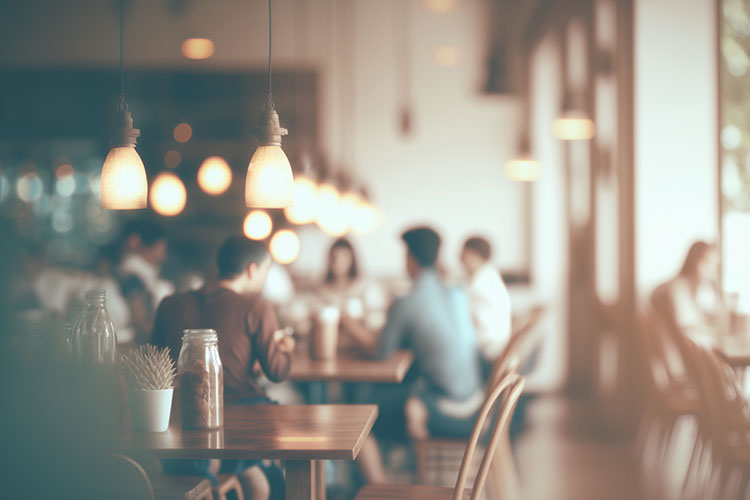 Comptons
Looking for one of the top cafes in Farringdon for business meetings? Look no further. Once known as The Modern Pantry, Comptons is a relatively recent addition to the Farringdon lunch spot scene. Marketing themselves as an "easy dining bistro, deli and bar", Comptons is one of the best places for a client lunch in Farringdon.
The setting is inviting and laidback, the perfect place to take away the pressure of a formal business meeting. Instead, relax and dine over a selection of small plates, an artisan sandwich on freshly-baked bread or a main meal – such as the daily pie which changes every day. 
Highlighting the art of food, the menu brings creativity and flair – adding a little excitement to your Monday to Friday.
The Eagle
Combining good food, good drinks and great value, The Eagle is a great place to satiate your guest's appetite – the perfect Farringdon business lunch. 
Adopting a down-to-earth, casual approach to fine dining, The Eagle is one of the most welcoming, affordable business lunch options in Farringdon. Prioritising exceptional ingredients and skilled chefs, all while maintaining a relaxed atmosphere, The Eagle promises an easygoing 'pub feel' with pub classics on the menu that go above expectations. 
Chalking up a new menu twice daily, it's clear that The Eagle runs on passion and talent. No fancy extras needed – just good, honest food. Though the pub is renowned for its excellent Mediterranean cuisine, we couldn't finish this article without recommending The Eagle's famous steak sandwich. However, returning to the office might be a tough task afterwards.
Good food, good mood
We're all about ensuring our customers (and their clients!) have the best possible experience, not just at lunchtime – but throughout the entire day too.
If you'd like to book out one of our first-class meeting spaces and the tempting food packages we offer alongside our venues, please don't hesitate to get in touch. We'd love to hear from you!