From venue facilities to environmental practices
Our corporate venues in London have received plenty of awards and accreditations over the years.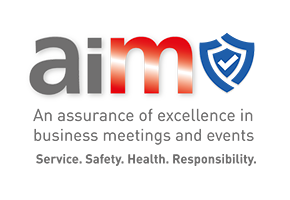 Accredited in Meeting (AIM)
We are AIM accredited. AIM is the quality mark of the Meetings Industry Association (MIA), which guarantees that our London meeting venues comply with all essential legal requirements and meet high standards of quality and service.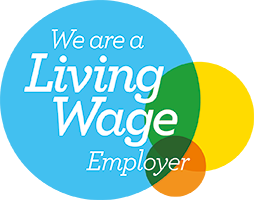 Living Wage Employer
We are an accredited Living Wage Employer. This demonstrates that we are a responsible, thoughtful employer, who values our people and best practice. We pay our staff a wage that is based on the cost of living, rather than opting to pay the statutory minimum wage.
miaList
The miaList celebrates the top 10 most outstanding and passionate individuals in the meetings, hospitality and events industry who continuously go above and beyond the call of duty.
2021
Our Operations Director, James Russ secured himself a spot on the coveted miaList 2021!
2019
Our CEO, Caroline Bull secured a place on the coveted miaList 2019!
London Venue & Catering Awards
With thousands of venues located in London, it is an extremely competitive market. This makes it even more of an honour to be recognised at these awards!
2022
We won the Bronze Award for Best Venue Customer Service at the London Venue & Catering Awards 2022!
2021
We won the Silver Award for Best Venue Leadership During Covid-19 at the London Venue & Catering Awards 2021!
2019
We were awarded the bronze award for the Best Venue with a View at the London Venue Awards 2019. Check out the view for yourself – CCT Venues – Bank Street.
2018
At CCT Venues, we're proud to be an inclusive company – so we are thrilled to be recognised for our commitment to equality by receiving the Silver Award in the Best Venue for Employing Women and Gender Equality category at the London Venue Awards 2018.
London Prestige Awards 2021
We are proud to announce that we won the Business Event Organiser of the Year award at the London Prestige Awards! The awards are run by Corporate Livewire.
Environmentally Responsible Venues
CCT Venues – Barbican and CCT Venues – Smithfield have been recognised in the Clean City Awards organised by the City of London Corporation for almost every year since 2008. Over that time they've won one Merit, two Gold and eight Platinum accolades – plus the sought-after Chairman's Cup Award in 2016. Most recently, we were granted a Platinum Award in 2019. We were one of only six businesses of our size to achieve the award!
The award recognises a tireless effort at CCT Venues – Barbican and CCT Venues – Smithfield (our City of London venues) for following the best practice we adopt across all our London conference venues. This involves increasing our recycling and reuse activity, and reducing waste and litter. Awards are based on site visits by inspectors and evidence submitted by entrants. In addition, the Platinum Award application looks at staff communications and the reduction of smoking-related litter.
We also achieved Platinum status for CCT Venues – Bank Street, Canary Wharf for the IACC 2018/19 Code of Sustainability. The International Association of Conference Centres (IACC) has a rigorous Code of Sustainability which covers:
Education, Awareness and Public Declaration
Waste Management
Recycling
Reuse
Water Conservation
Purchasing
Energy Management
Air Quality
Food & Beverage
The Wharf Innovation in Business
In 2016 we won the award of Highly Commended Medium-to-Large Business at The Wharf Innovation in Business awards. This was in recognition of innovation in a number of ways including how we creatively meet our clients' needs, how we reward our team members, and our employee awards programme through which we identify and reward great examples of customer care.
The London Venue Awards 2018 – Silver Award Winners for the "Best Venue for Employing Women and Gender Equality"
CCT Venues Plus-Bank Street was shortlisted as Best New Conference Centre in 2014
Shortlisted as finalists for Best Training Venue and Best Venue Customer Service for Conference and Venue Supplier Awards in 2013
Highly commended in the Business Growth category of the Docklands Business Club and East London Chamber of Commerce Awards 2009
Runners up in the Growth category of Archant London's 11th annual Thames Gateway Business Awards