Clean City Scheme Award Winners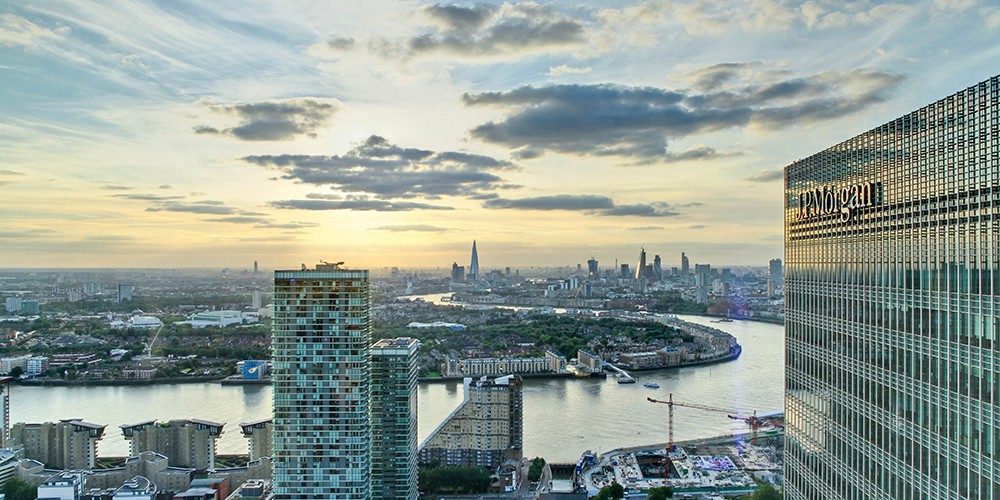 Clean City Awards Scheme Winners
We are delighted to announce that we have once again been presented with a Platinum Clean City Scheme Award!
The award was presented to our CEO, Caroline Bull and our City General Manager, by The Lady Mayoress Hilary Russell at a celebratory lunch at the spectacular Mansion House in the City of London. We were one of only six businesses of our size to achieve the award.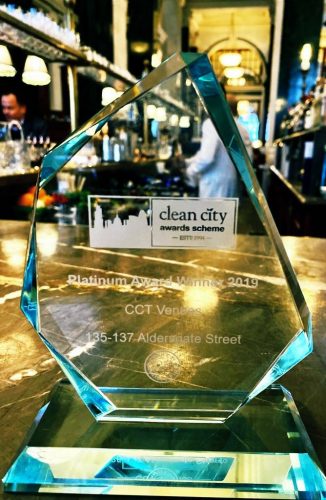 At CCT Venues, we strongly believe that everyone has an equal responsibility to look after the environment we live and work in. If all businesses were to make a conscious effort to manage their waste efficiently and responsibly, our world would be in a much better condition.
We are proud to announce that this is the tenth time, we have won an award in the City of London's Clean City Awards Scheme. This marks the eighth year that we've been awarded the coveted 'Platinum Award' for our continued commitment to being environmentally friendly, recycling and waste reduction.
Our mission at CCT Venues is to become a leader in the meetings industry in terms of operating in an environmentally friendly and ethical way, so it is an honour that the City of London has recognised our efforts.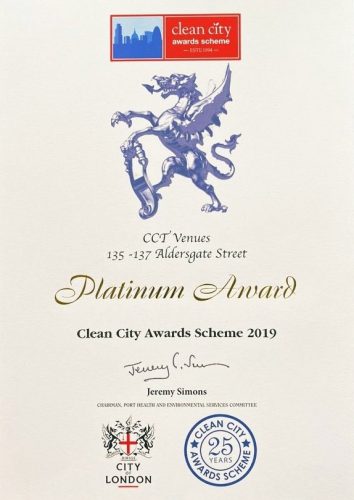 James Russ, Operations Director commented: "We have been operating in the City of London for 15 years and are continually aware of the potential impact our business has on the environment. We are committed to reducing waste, operating in a more sustainable way and supporting the City of London Clean City Awards scheme. We are thrilled to be awarded the platinum award for another year as this is not easy to achieve, but we are pleased to have been recognised for our continued work on reducing waste and CSR initiatives."
What is the Clean City Awards Scheme?
The Clean City Awards Scheme, which is now celebrating its 25th anniversary, aims to raise the profile of responsible waste management and encourages businesses to 'Reduce, Reuse and Recycle' and rewards those businesses that are demonstrating good practices.
Aims of the Scheme:
Promote good waste management practices
Encourage waste minimisation, reuse and recycling
Reduce the amount of waste sent to landfill
Ensure compliance with Duty of Care regulations
Encourage City businesses to take pride in their surroundings
Provide a forum for City businesses to exchange waste management initiatives
Reduce smoking related litter
Sourced from The Clean City Awards Scheme, City of London
Environmental Friendliness Commitments
In 2019, to improve our environmental friendliness, we implemented the following initiatives (to name a few):
We used electronic signatures where possible, to avoid wasting paper and electronic signage is being implemented in all of our venues.
A 'switch off policy' for all electronics, lights and equipment was implemented. All computer equipment shuts down automatically to prevent being left on standby.
Biodegradable products were introduced in our food services areas.
We encouraged a reduction in printing, such as by removing printed materials from management meetings.
Stringent food wastage targets were set and achieved. This year we are aiming to reduce our food waste by a further 50%!
We started to roll out bio-degradable pens across the business, replacing single-use plastic. This has since been implemented.
We removed disposable cups from the business. We have now removed all forms of single-use plastic from the business.
We undertook a project to refurbish existing furniture rather than purchasing new ones, to prevent adding to landfill. For example, we replaced all of our table tops and reused the legs and upholstered furniture.
Computer equipment is donated to charity, so that it can be used in the training and development of children in technology.
We implemented a sustainable purchasing policy which gives preference to local and Fairtrade products.
Despite achieving a great deal in 2019, we are striving to achieve even more in 2020. For example, we have begun recycling all of our coffee waste in our Canary Wharf venues and will roll this out throughout CCT Venues. New policies to reduce the use of note pads, pens and flip charts in all of our venues are also due to be introduced in 2020.
We are looking forward to seeing more businesses follow suit; working together as a community to improve our environment and quality of life here in the City of London.