Best restaurants near Smithfield Markets, Farringdon

You can't do business on an empty stomach. Luckily, Farringdon is home to an abundance of tasty places to grab a bite, have a drink and enjoy. Whether you're after simple pub grub or something a little more sophisticated, we've got your back.
End your meetings with a meal
With event venues located in Smithfield and near the Barbican, it's important to have somewhere booked after the day is done to sit down, relax and grab a bite. Previously we spoke about cafes and bistros in the area that we think would be perfect for a lunchtime meeting with a client. Today however, we're talking about the best restaurants in Farringdon for an evening meal. 
So, what are you waiting for? Let's explore our restaurant recommendations in the Farringdon area, right near the famous Smithfield Markets:
Our top picks: Restaurants in Farringdon
Le Café du Marché – 22 Charterhouse Square, EC1M 6DX
We're kicking off the list with a classic French dining experience, Le Café du Marché. A rustic, independent restaurant located just a few minutes' walk from Smithfield Markets, the food here is exceptional. This is one of the best places in Farringdon for food in order to impress clients, or even treat your employees to something a little special.
Serving up a range of delicacies hailing from France – such as le poisson selon le marche and navarin d'agneau printanier, as well as a rotating menu of daily specials – each dish is made of the finest seasonal ingredients and prepared to perfection. Moving onto drinks, the wine menu has been specially selected to perfectly pair with each dish – offering a treat for the tastebuds.
Adding to that, the restaurant features daily live jazz music to ensure the drinks flow, the ambience is right and your guests are transported to the streets of a provincial French town. Bliss…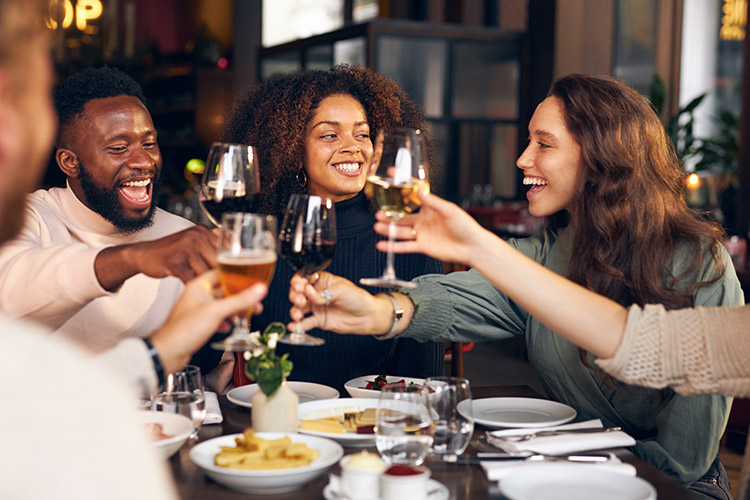 St. John Bar and Restaurant – 26 St. John Street, EC1M 4AY
Next up, a highly-acclaimed restaurant near Smithfield Markets – St. John Bar and Restaurant. 
Ex-smokehouse, Michelin-starred and home to an eclectic menu of delicious dinners – situated just a 2 minutes' walk from our meeting venues, St. John's is one of the best restaurants in Smithfield, in our opinion. A bakery, a winery and a wine company, St. John's is the perfect spot for both lunch and dinner. So much so we've already recommended St John's in our guide for client lunches in Farringdon! 
The menu is rich and indulgent, made up of traditional – but elevated – British cuisine. Examples from the menu include roasted bone marrow with parsley salad, grilled ox heart with beetroot and horseradish and roasted lamb with braised lettuce and mint. 
Hearty and comforting, these dishes are perfect to pair with one of the restaurant's excellent selection of specialty wines and beers. Don't wait up, get your table booked at this beautiful Farringdon restaurant today.
Dining with CCT Venues – Seamless, simple and delicious
With a range of restaurants on your doorstep, you don't need to travel far for good food when you're hosting at one of our first-class meeting venues. However, sometimes it's easier to just stay in one place and forget about the hassle of making reservations for a big party. 
That's why we offer top-quality, restaurant-standard catering as a package at all our premium venues, so you can keep your guests happy and satisfied – all in one place. No faff, fuss or hassle necessary. 
We offer everything from breakfast and lunch to cocktails and canapés – whatever works best for your guests! Check out our menus below, and get ready for a dining experience to remember…
Paternoster Chop House – 35 Old Bailey, EC4M 7AU
Located right next to St. Paul's Cathedral, a strikingly-beautiful icon of our capital city, Paternoster Chop House is exactly what they say on the tin – a traditional British chophouse.
Priding themselves on their generous cuts of succulent meat, sourced from local, high-quality suppliers, Paternoster specialise in making the most of each cut of meat – whether it's a rib-eye, a fillet or even chateaubriand. Trained butchers and chefs ensure each dish is mouth wateringly-delicious.
For those that don't fancy a steak, the rest of the menu is eclectic and unique, with a rotating daily specials section that samples all of the finest ingredients Britain has to offer. For instance, a comforting curried mushroom stew, a twist on the classic haddock and chips, pan-roasted hake and even a cheeseburger for those that enjoy the typical pub fare. And for a little sweet treat afterwards, don't miss out on Paternoster's irresistible rhubarb cheesecake. 
Inside, the atmosphere is vibrant and bustling. But if you're into al fresco dining, Paternoster's covered, heated terrace is the perfect place to relax and watch London life pass you by. What better way to finish off a busy day of business?
As for drinks, the menu is full of the usual classics you'd expect, alongside twists and turns on the cocktail menu to keep things interesting. Cheers!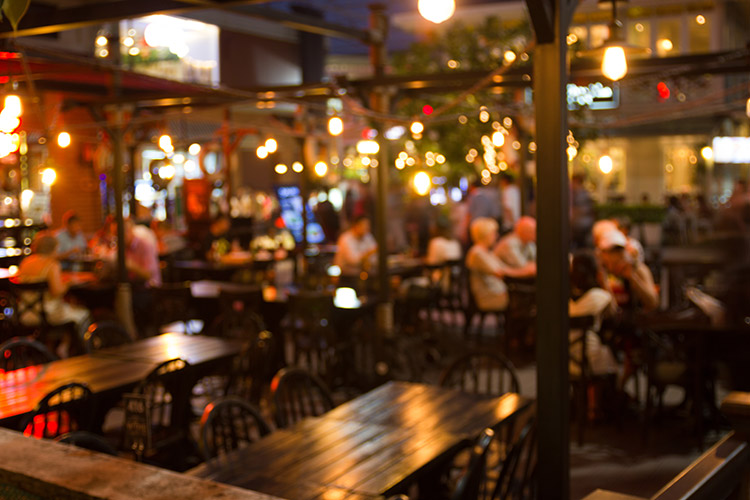 The Fable – 52 Holborn Viaduct, EC1A 2BN
Head to The Fable, one of our favourite restaurants near Smithfield Markets, for something a little out of the ordinary. Inspired by mythical tales and age-old fables, this is the perfect place if you're looking for a more whimsical dining experience.
Rotating the chef's favourites and meticulously-designed seasonal menus, the menu is a feast for the palette. Some examples of the current specials menu include breaded sea bass fillet with katsu sauce and wakame kelp, or grilled lamb rump with tahini puree, artichokes and mint relish.
If that's not for you, The Fable also serves classic meals such as cheeseburgers, fish finger sandwiches and more. And of course, we can't forget about the drinks and desserts! With cocktails and mocktails aplenty, as well as tempting treats like sticky toffee pudding, you'll be left booking another visit in a heartbeat.
Clock off after a meeting (The Fable is a literal stone's throw away from our Smithfield meeting venue!), and switch up from the hustle and bustle of the work day for an evening of fantasy and fairytale. It's a great place to go from day to night – especially if your business meeting is on a Friday!
Dining in the capital
The area surrounding Smithfield Markets is a hotspot of delicious places to grab a bite, with a wide variety of cuisines to choose from. Whether you're looking for a casual lunch with colleagues, or even a sophisticated evening meal with a client, there's something for everyone in this vibrant part of the city. 
And of course, before you make your restaurant reservation, it's important to check that you've got all areas of business covered. With modern meeting spaces in the heart of Farringdon, you can spend your day of conferences, training sessions or meetings at our Smithfield venue, and then clock off at the end of the day for a delicious dining experience.
Interested? Let's get you started.