Safety First Handbook

Coronavirus (Covid-19) Safety First Handbook
Find out what procedures and safety measures we have put in place to mitigate the risks of Coronavirus (Covid-19)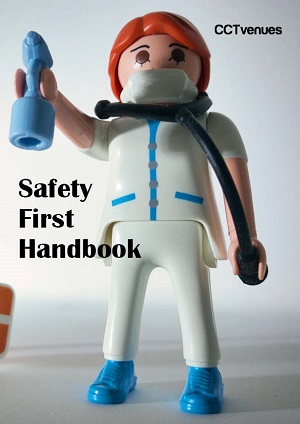 We have worked tirelessly to ensure that we are prepared and have all the necessary policies and procedures in place to ensure the utmost health, safety and security of our clients.
We have developed so many new policies that we have had to put it all in our Safety First Handbook. We want you to share our confidence in the actions taken to mitigate the risk of Covid-19, and that is why we have detailed so much of what we are doing. We hope that the transparency of the handbook will give you the peace of mind you need and will illustrate that we will have every angle covered. These are testing times for everyone and there are no best practice blueprints yet, so we have been pretty thorough and will continue to review the situation as the lockdown unfolds and where necessary, make further refinements to operations.
Our handbook details what measures and options are available to clients to enable you to run your events with confidence and worry free.
Download Now
Some of the Main Topics Covered are:
Delegate Safety (including Health & Safety, cleanliness and sanitisation)
Special packages and bespoke opening hours
Available technological solutions
Operational Management (including Covid-19 screening, reporting and venue logistics)
Some of the Highlights Include:
Providing more space for events and delegates
Longer opening hours giving clients more flexibility
An abundance of hand sanitiser and other safety measures