London's Most Trusted Venue for Covid-19 Safety
If you're looking for a trusted London venue with excellent Covid-19 safety measures in place, then look no further! Don't just take our word it though, these Post Covid Client Testimonials include praise from the London Ambulance Service and St John Ambulance.
We have implemented an extensive array of safety measures and precautions to keep all visitors safe. As a result, we have achieved a trio of industry-leading accreditations for Covid safety.
But don't just take our word for it, since reopening we have received resoundingly positive feedback from our clients. Here's what some of them had to say…
Post Covid Client Testimonials
Training:
Danielle, Head of South Region, Unlocked Graduates:
"Just wanted to send a note to say a huge thank you to you and your team for having us all over the last few weeks. It's a great venue and we've all felt very well looked after."
Head of Department, London Ambulance Service:
"We have been using one of CCT Venues' properties for over 2 months now and we have been delighted with the facilities and the service. Their Covid-19 safety measures are excellent and we are looking forward to continuing to work with them in the months to come!"
Interim Head of Clinical Education, London Ambulance Service:
"I would like to thank you and your whole team for the hospitality and support you have shown us whist we have been at CCT Venues. It has been a challenging time during Covid, but the collaboration you have all shown has been essential to the success of the courses we have delivered.
Since September 2020 we have seen in excess of 210 learners successfully complete their courses and move on to their clinical supervision. The feedback from the Tutors about the venue and your team has been nothing but positive, and it has been our pleasure to work with you. I would like to express special thanks to you, Peter, Raj and the onsite team for your professionalism, support and kindness. Thank you very much!"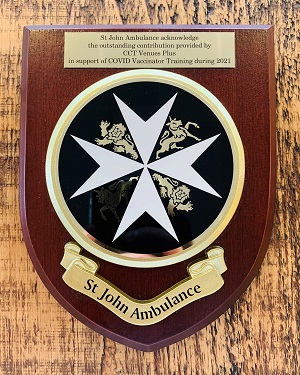 Carl Makins, Head of Training – St John Ambulance:
"Thank you, the safety measures and Covid-Secure processes in place were exceptional, the team there delivered an amazing service all weekend. Thank you!"
Filming:
Matthew a Sound Designer for Film used our venues for corporate filming for Glenmalure Consulting:
"Perfect venue! I recently had the great pleasure of making use of CCT Venue's facilities for a corporate video recording.
Over my initial conversations via email, communication was swift, precise and gave me everything I needed to know about the venue, including external facilities like parking and public transport routes which was highly useful.
On my site visit and event days I found my contact Hannah Smith and her colleagues friendly, knowledgeable and very accommodating – anticipating our needs and lending a hand to make our job an awful lot easier. It was like having additional crew members! Their professionalism is exceptional, we were in very safe hands.
The facilities are exceptional – the anti-Covid measures, including temperature scanning, online track and trace services and hand sanitiser liberally laid out made my crew and my clients feel relaxed and safe. The room suited our needs admirably with plenty of daylight, space for social distancing, air conditioning and the hospitality facilities made my crew and clients relaxed and refreshed.
Overall I cannot recommend CCT Venues highly enough. If you are going to run a conference, meeting or event – I would absolutely recommend you get in contact with them!"
Dan Corderoy, Director – Clever Monkee:
"We recently used StudioX to create content for our upcoming comedy festival. The facilities and set-up were first-class, the team were very accommodating and professional and we would thoroughly recommend CCT Venues to anyone wishing to promote their business!"
Meetings:
Head of Department, Cabinet Office:
"We have a long history of working with CCT Venues who provide us with dedicated suites of space, backed up with superb support services and catering. We look forward to continuing to work with them in the future!"
Claire Truswell, Executive Assistant at Legacy Foresight:
"I was impressed by all of the measures CCT Venues have put in place. Particularly the individual bottles of water and of spacing of tables."
Education:
Local Lead Examiner, Education & Institutions Sector:
"As the examiner in charge of the exam that we ran over the past two days at CCT Venues, I want to say a big thank-you.
Your venue is spacious, beautifully decorated and maintained, and has stunning views.
The venue has adapted itself for Covid, so the process of making the arrangements did not feel stressful, and we felt safe during the event.
We were able to hold a very complex exam there, requiring multiple rooms, successfully.
Your staff in general, and you in particular, went out of their way to accommodate our needs (including very early starts and late finishes) and beyond.
If I were to run this exam again I would certainly be very happy for it to be held at CCT Venues."
We hope you enjoyed reading our post covid client testimonials and that they demonstrate how seriously we take client safety. If you would like to find out more about the safety measures we have put in place or would like to discuss an upcoming event with us, please don't hesitate to get in touch.