Event Studio

In response to the increasing demand for hybrid and virtual events and to enable us to take our clients' events to the next level, we have bolstered our technological capabilities and can now create dedicated hybrid and virtual event studios in our venues!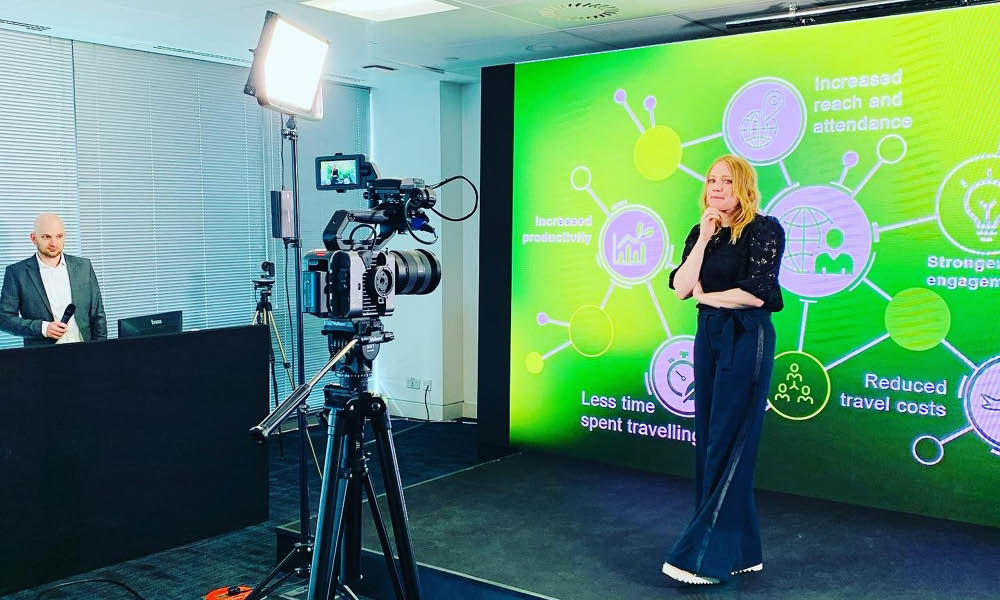 As featured by London Convention Bureau, our broadcast quality studios can be designed around LED wall or green screen backdrops, giving you fully customisable settings to deliver a wide range of hybrid and virtual events. We can also set up extensive conference lighting rigs and audio packages to ensure that all attendees are captivated and fully engaged and virtual attendees will feel like they're in the room, engulfed in a seamless live experience. Dedicated highly experienced technicians can be on-hand at your request throughout the event and during the planning stages to handle all aspects of content, vision mixing, lighting and sound. Work with us and we'll make your vision become a reality!
What Type of Events can be Held in our Hybrid and Virtual Event Studio?
We designed our hybrid and virtual event studio to be as flexible and versatile as possible, therefore there is a very wide range of events that our studio would be perfect for. Here are some of the most common events our hybrid and virtual event studios are used for:
Webcasting
Virtual Conferences
Virtual Award Ceremonies
Virtual Christmas Parties
Panel Discussions/ Q&A Sessions
Training
Product Launches
Virtual Exhibitions
Webinars
Workshops
Roadshows
Meetings/ AGMs
What are the Capabilities of our Hybrid and Virtual Event Studios?
Real-time audience interaction which seamlessly integrates virtual and in-person participants. Online audience members can be featured on the screen, so that they can interact in real-time with the presenter(s).
Fully immersive presentation experience, utilising customisable backdrops, lighting and audio, which can be tailored to your requirements or brand.
Multimedia display, encompassing text, presentation slides, graphics, video elements, audience interaction, social media feeds, polls and more.
Highly accessible. The output of our live stream feed is compatible with all of the main streaming and video conferencing platforms. The feed can also be streamed directly on your company website.
Bespoke interactive event lobby. You have the ability to welcome your guests in a virtual lobby. In this virtual environment, your participants can interact with one another via chat functionality, they can watch pre-recorded videos and download information relating to the event. This virtual lobby could also act as a virtual exhibition, with your products or services showcased via virtual exhibition booths.
Hybrid and Virtual Event Studio Specifications
We can supply the latest industry-leading technology to cater for all AV requirements:
LED Walls
Projection
Green Screen
Staging & Sets (stage flats, stage frames and printed backdrops)
Audio
Data/ Video
HD Cameras
Conference Lighting
Wireless Up-Lighting
Intelligent Lighting
Relay screens/ Auto Cue
What Production Crew is Available?
We have a whole team of highly experienced technicians available to work with you to help you effectively execute your event. Each technician is a specialist within their respected field.
Studio Manager
Graphics Operator
Live Vision Mixer
Livestream Operator
Camera Operator
Autocue Operator
Lighting Operator
Sound Operator
If you need help with design or content, we also offer creative development services. Our development team can also create bespoke event apps and can tailor event software to your specific needs.