Barbican Coffee Shops and Cafes

Home to world-famous brutalist architecture, entertainment and culture, as well as being a renowned business district in the heart of London, the Barbican district is a thriving pocket in the big city.
But with so much going on, a coffee break is absolutely non-negotiable to keep up with the hustle and bustle of London life. From expertly-brewed coffee blends to savoury delights – or a freshly-baked pastry if you're partial to something sweet – calling in at one of the many cafes and lunch stops in Barbican certainly won't disappoint.
A cafe and coffee-lover's guide to the Barbican district
Located in the City of London, the Barbican district is filled with lively residential spaces, bustling workplace environments and unique culture around every corner – notably, the Barbican Centre. With that in mind, let's embark on a culinary journey through the district with a cherry picked selection of our favourite Barbican coffee shops and cafes!
Redemption Roasters – 55 Long Lane, EC1A 9EJ
Ideally located right near Farringdon Station for a moment of peace or a hot drink on-the-go, Redemption Roasters have a unique, community-led perspective on their passion for coffee and roasting.
Redemption's commercial-scale roastery is situated inside HMP The Mount, working alongside ex-offenders to reduce crime and reoffending in the community – all while brewing delicious, ethically-sourced, specialty coffee. And if you'd like something to satisfy your appetite, the shop has a selection of tasty pastries, cakes and sandwiches to set you up for whatever the day has in store.
With three coffee shops in London, their Barbican coffee shop is nestled away from the bustling big city, and is just a stone's throw away from our Barbican conference rooms – the perfect rest stop for a refreshment after a busy day of meetings, training sessions and conferences.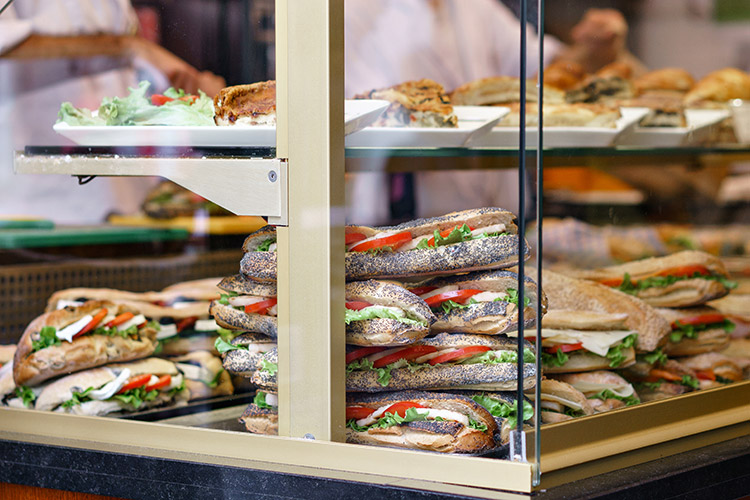 Catch Up Coffee – Goswell Road, EC1M 7AH
Start your day the right way in Catch Up Coffee with a smooth artisan coffee, paired with a slice of cake or even a nourishing breakfast to see you off for a day of London life. Boasting superb views of the surrounding brutalist architecture that epitomises the Barbican district, this family-run cafe is within earshot of our sophisticated conference venue, ideal to take your meeting guests or staff for a hot beverage before the day begins.
Or, if you're looking for a midday pick-me-up, this is one of the best lunch places in Barbican, serving a selection of food such as freshly-made sandwiches, varying soups of the day and more.
We've got breakfast covered
Our services don't just stop at excellent event spaces, we also offer breakfast catering to enjoy during your meeting – no need to even step out of the door. From healthy eating options and continental breakfasts to something a little more indulgent, trust us to impress your guests with a delicious breakfast, and of course, a nice, hot cup of coffee.
Check out our 2023 Menu Pack!
FWD: Coffee – 161A Whitecross Street, EC1Y 8JL
Walk in, drop your bags and relax in this quaint, vintage-adorned haunt, and relish in the exposed-brick interior in one of the huge leather sofas at FWD: Coffee.
Priding themselves on their bespoke blend, this is one of the Barbican coffee shops that delivers on what they say. Roasting their very own 100% specialty coffee to produce an exclusive house blend, alongside treats, snacks and a breakfast/lunchtime menu to satiate your appetite, beautifully-balanced coffee comes as standard at FWD.
Located in the backdrop of the impressive-looking neighbourhood, you don't have to travel far for the best coffee and cafes in Barbican, especially when you're hosting at our nearby venue space.
Whether you stop off before the day begins or you take the short 8-minute walk over to your conference room at lunchtime, this is a great place to engage in conversation, take a moment to relax or even get those creative juices flowing over a delicious cup of coffee – whatever works best for you.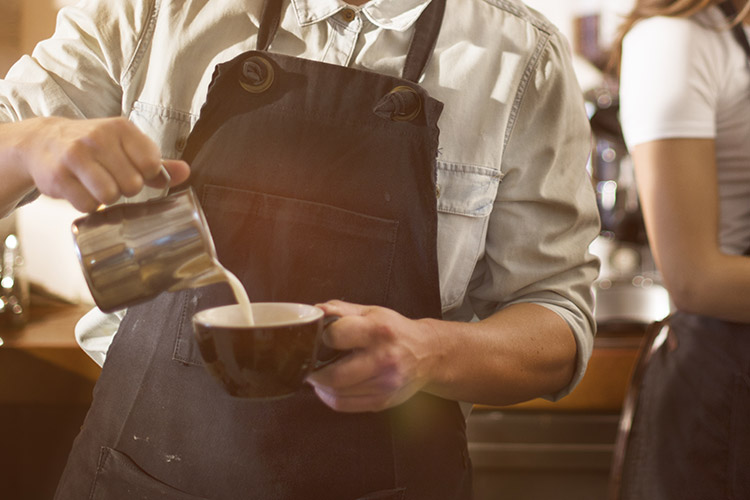 Dose – 70 Long Lane, EC1A 9EJ
One of the best cafes in Barbican, Dose offers a number of tables to relax, unwind and sip the day away with the London locals. Home to a whole host of guest brews, all with their own unique, intricate flavours and each one just as delicious as the last, Dose is an excellent choice when looking for Barbican coffee shops.
And it doesn't just stop at coffee, either. With a number of sweet treats to enjoy with your drink (their handmade banana bread is a fan-favourite), it's impossible to resist a trip over to Dose to get your day off to a good start. And of course, it's ideally located right by our Barbican meeting venue (three minutes on foot, to be exact), making a quick visit an absolute must.
Barbican Kitchen, Barbican Centre – EC1Y 4SB
Though this might seem like an obvious pick, as it's located within the Barbican Centre, it wouldn't feel right to exclude it from the list.
Picture the scene, you've finished a busy day of work and meetings and you're looking for a cafe in the Barbican neighbourhood; where better to go than the Barbican Centre itself? And on those warmer days, the Barbican Kitchen has easy access to the Lakeside Terrace so you can watch the day go by.
Relax, unwind and choose from a first-class selection of hot drinks (including a hot cup of carbon-neutral coffee) or even a glass of wine or beer to enjoy during the performance if you fancy something a little stronger. And when it comes to food? Tuck into a range of hot food specials, or even a jam-packed, freshly-made sandwich or a build-your-own nourish bowl – whatever takes your fancy.
Getting ready for a busy day ahead
Located in the heart of the district, right on Aldersgate Street, our sophisticated, spacious meeting rooms are ideally situated when it comes to Barbican coffee shops, cafes and cakes – the perfect combination.
You'll find coffee shops near Barbican on every corner, especially near our meeting venues, which are a central spot for businesses to connect, collaborate and of course, enjoy a coffee break.
If you'd like to start planning your next event, whether that be for a team away day, a training session or an important conference, we've got you covered. Get in touch with our team today!