Top tips for event management in 2023

Event planning is not for the faint of heart, requiring a lot of time, energy and planning to achieve the best standards. But if you pull it off, the rewards you can reap from a well-executed event are unparalleled.
After an extended break from in-person events during the COVID-19 outbreak, we're finally seeing the events industry come back to life – and back with a bang. More and more companies are wanting to host their own events after a few years out, so it's important to get things right and make your event memorable.
With the pandemic accelerating new trends such as hybrid, live-streamed events, the rise of marketing events via social media and an increased focus on accessibility, expert planning and preparation is integral.
For that reason, we've compiled our full guide for planning an event in 2023, from the preparation and venue selection to event promotion and more.
Event planning and preparation
First up, you need to make sure your event has a place and purpose. What do you want to achieve once it's all over? Is it more brand awareness, better trained staff, increased sales?
Whatever it is, you need to thoroughly understand what you want to get out of your event and how you can ensure this happens – well in advance.
A well managed event doesn't happen overnight, it takes months of planning, meetings and discussions to even get the ball rolling. And the better the preparation, the better prepared you'll be to deal with any issues that may arise. Issues are inevitable, but getting ahead with event planning could be the difference between a minor problem and a full-blown disaster.
Planning in advance includes setting your budget, figuring out how large the event will be, what equipment you'll need and of course, gathering together a few venue ideas.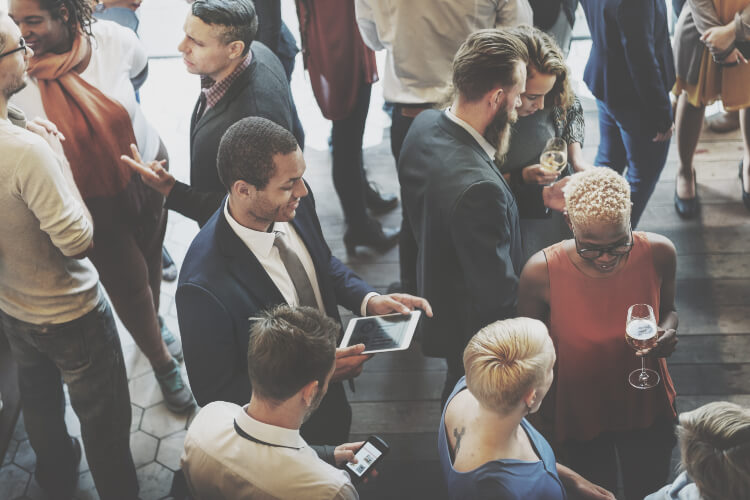 Choosing a venue
One of the most critical components of managing an event is the venue it's going to take place in. If you want people to attend (and potentially travel a great distance) to your event, the location of your event space is paramount.
Location
Factor in where it is and its surroundings, does it have good transportation links? For instance, if you're looking for venues in London for events, you'll ideally need a space situated near the London Underground and central train stations, such as Kings Cross and St Pancras.
Both our Smithfield and Barbican are situated in Central London, with easy access to transportation links to ensure your guests can leave your event knowing they're just a short journey from where they need to be next.
So much so, our Smithfield venue is right by Clerkenwell, and less than a 5 minutes' walk from Farringdon station, while Barbican is nearby both the Shoreditch and Spitalfields areas, and located directly next to Barbican Underground Station.
Facilities
When looking for the perfect venue, it's important that it's got everything you need. Collate a list of non-negotiables that you require from your space, such as Wi-Fi access, specialist equipment, accessibility measures for wheelchair users and potentially even catering options. If you've got your list to hand, it'll make the entire process a lot easier to navigate.
Similarly, all our spaces in London are perfect for events, with all the facilities you need to host a creative event in a contemporary space – sure to impress your guests for days to come.
Event type
From formal business conferences to staff training days and Christmas parties, the world of event management and planning is vast.
Hailing back to the previous point about knowing what the purpose of your event is, choosing what goes into your event (for example catering, equipment, entertainment and so on) depends on what type of event you're hosting.
For instance, if your event is a business conference, you might want to ensure your venue comes with a package deal that comes with catering options to keep everyone refreshed and ready to go for the entire day. Here, you may consider our day delegate package, which includes everything from room hire and equipment to beverages and food.
Hybrid model
In today's post-pandemic world, many are opting for hybrid events where attendees have the option of attending either in-person or online. Currently, people all over the world are faced with both travel and budget constraints, causing many event planners to favour a hybrid approach.
Adopting a hybrid model gives your event the flexibility to capture all those overseas audiences and engage them. Proper planning is crucial here to ensure you have the right equipment for live-streaming your event, such as rapid speed internet connection and specialist equipment like our all-in-one smart 360 camera and mic.
Event promotion
Once you've decided on the finer details that go into managing an event, it's important to determine how you'll attract people to it.
Of course, if you're planning an event for people within your company, there's not much promotion that needs to be done. Currently, many events are promoted digitally, via social media/email campaigns or word of mouth spread on social media, rather than traditional print materials.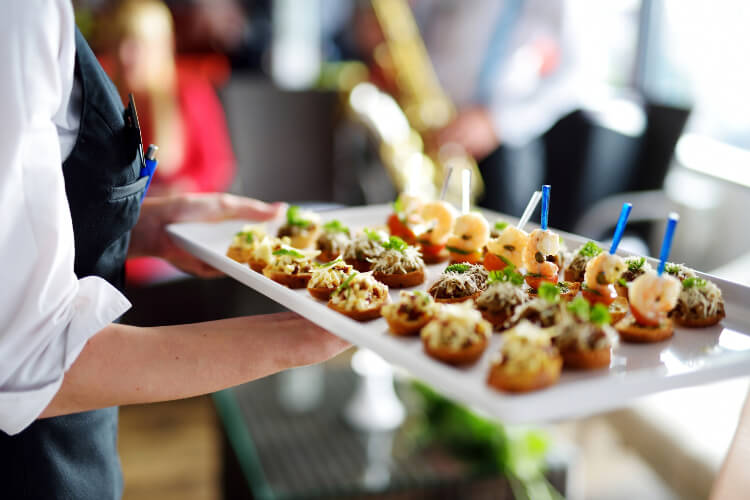 Additionally, it's good to try and create a buzz around the event, potentially offering exclusive content that can only be gained from potential attendees.
Events Catering
Attending an event is thirsty work. Add the finishing touches to your day with event catering, to make sure everyone has food and beverages to ensure they can enjoy the day to its full potential.
We offer various catering packages, from our day delegate package to a luxurious a la carte dining experience. This involves our talented team of in-house chefs preparing fresh, delicious meals using only the finest ingredients, to make sure no guest leaves your event without a compliment to the chef.
On the other hand, we also offer both cocktail and canapé making classes to add a little flair to your day – perfect for a corporate team away event.
Managing the event on your day
The big day is finally here! Your attendees have arrived, the drinks are flowing and the first speech or activity of the day is just about to start.
Event management doesn't just stop once your event has begun, it's a process you need to be on top of for the entire day ahead to ensure you create a memorable, enjoyable experience for all involved.
And we're here to help, too. Just tell us what you want from your event and we'll work with you to make it happen, providing staff to help oversee your day, attend to your guests and more.
Bringing your vision to life: Flexible venues in London
If you're ready to begin the journey, we'll be here throughout the entire process – from your first vision to the final execution. After all, we're not just here to supply top-quality, modern spaces, we're dedicated to making sure you have the best day possible.
From first-class catering options and specialist equipment to add-ons that'll make your day that bit more special, let us help you bring your vision to life - enquire today!