Making the most of small meeting spaces: Tips for intimate events

London is well known for large-scale events, like annual conferences, tradeshows and AGMs. But there's a real need for small meeting spaces where smaller businesses or teams within a larger business can gather.
Whilst arenas, halls and larger hotel suites work for larger business events, they may not always be the right choice for a more agile workforce.
Planning an event to suit you
Small meeting spaces are highly adaptable and often, but it's important to know how to use that space to your advantage. Let's break it down:
In a world of grandiose venues and extravagant events, it's sometimes good to scale things down a little. Here's everything you need to know about booking an intimate event for a smaller team:
Why choose a small meeting space?
Boasting their own unique charm, smaller spaces create an environment where connections are deeper and ideas flow freely, allowing for intimate, private discussions. Small event spaces for team collaboration work well if the room and seating is all organised correctly, promoting teamwork and productivity.
Additionally, a small meeting space is perfect for remote attendees. With 44% of workers staying at home, an increase following the COVID-19 pandemic, creating a better environment for hybrid meeting attendees is becoming even more integral.
Smaller spaces equipped with the right audiovisual tools ensure voices are not lost in the large space, so remote workers don't feel any difference between being there in-person or sat at home.
Advantages of small meeting rooms for SMES: Big wins for your business
More specifically, small and medium-sized enterprises (SMEs) have unique requirements when it comes to hosting events. Unlike huge corporations teeming with staff who'll need the biggest venue on the market, a small meeting space in London can be a game-changer for an SME who needs less space.
Offering unmatched flexibility, these meeting rooms tend to offer flexible bookings, so you can book a space as and when you need it when you have the funds. This means you'll never be paying for more than what you need – the perfect solution for an SME.
Not only do these spaces fit better into their typically tighter budget considerations, but they also provide a more conducive environment for focused discussions and team-building activities. If your small business is in the early stages of growth, you might not have all the tools needed to properly facilitate an effective conference, meeting or training day.
Hiring a small venue for the day ensures you have access to everything you need – the right number of seats, desks and of course, all the technical equipment you don't yet have.
Large and small meeting spaces for SMEs, big impact
The advantages of small meeting rooms for SMEs are clear: focused discussions, cost-effectiveness, and the opportunity to build lasting bonds. Gone are the days of getting lost in a sea of faces at large conferences; intimate events foster meaningful interactions and forge lasting bonds among attendees. With top-notch technology and creative setups, our small meeting rooms in London redefine success.
If you're a smaller enterprise looking for a budget-friendly, creative space, look no further. Let's get started.
Book A Space
Choosing your ideal small meeting spaces in London
Suitability
When choosing your venue, it's important to consider the specific needs and goals of your event. Look for spaces that align with your objectives, be it a brainstorming session to spark creativity, a product launch that wows or a training workshop to empower your team. The right venue can make all the difference.
Consider key factors such as the capacity of the space, location, the available amenities and the overall atmosphere of the venue.
Location and accessibility
It's no secret that location plays a big role when selecting your perfect venue – nobody wants to commute hours on end for a small-scale meeting.
Opt for a venue that offers easy accessibility for all attendees, whether they are coming from different parts of the city or travelling from outside the big city. By eliminating travel obstacles, you can ensure that your guests arrive promptly and fully engaged, ready to make the most of your event.
We offer strategically-located London venues for small team gatherings, with our Barbican venue just two stops from King's Cross, and our Smithfield space just a stone's throw away from the Farringdon station and 1 stop from King's Cross.
Whether you decide to stay in the bustling Barbican business district, our host near the historic Smithfield Markets, we ensure that accessibility is a breeze for your attendees.
Say goodbye to the hassle of long travel times and embrace the convenience of a commute.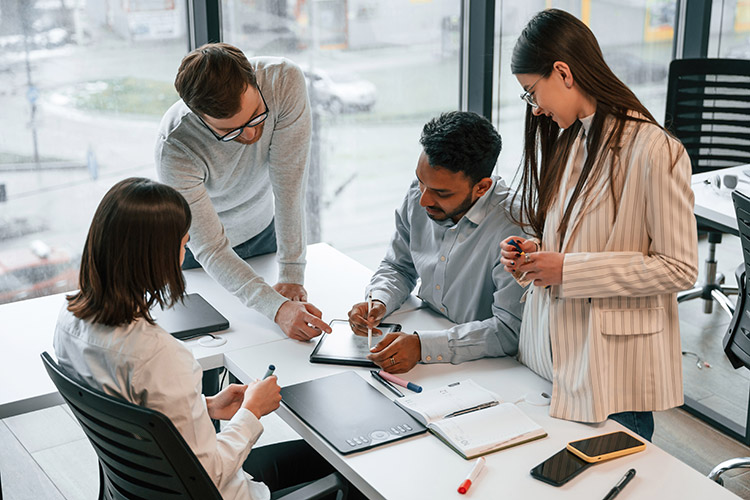 Amenities
A successful intimate event hinges on seamless execution, and the availability of essential amenities is crucial in achieving this. Even if your space is small, that doesn't mean it has to be lacking.
Need a quick coffee break or a delicious lunch to keep those creative juices flowing? We've got you covered.
From teas, coffees and refreshments to full meals, we offer on-site catering to ensure your guests feel their best for the entire day.
Additionally, modern audiovisual equipment is vital to enhance the overall experience and productivity of your event.
We're equipped for maximising productivity in small meeting spaces. With all the necessary tools, food and refreshments at your disposal, you can focus on the substance of your event.
Designing productive small meeting spaces in London
Space optimisation and layout ideas
Even the smallest spaces can offer boundless potential – it's all about turning big visions into a reality. Forget about the limitations of size, there's loads of clever layout ideas to ensure that your intimate event space becomes a powerhouse of productivity.
From cosy circles that encourage open communication to comfortable breakout spaces that spark innovation, it's all about providing versatility and adaptability – depending on what you're looking for from the day.
Flexibility is what we do best at CCT Venues – our venues are where big ideas find their home, designed to maximise every square inch.
Ready to host anywhere between 2-200 guests, we'll suggest layout options and shuffle around our seating to ensure you're getting the most out of the room.
Whether we provide a cosy and intimate setting to encourage genuine interactions, or your guests make use of our dedicated breakout areas for brainstorming and idea-sharing, the choice is yours. When teams thrive, success follows!
Together, we'll create an event that not only leaves a lasting impression but also delivers tangible results for your business.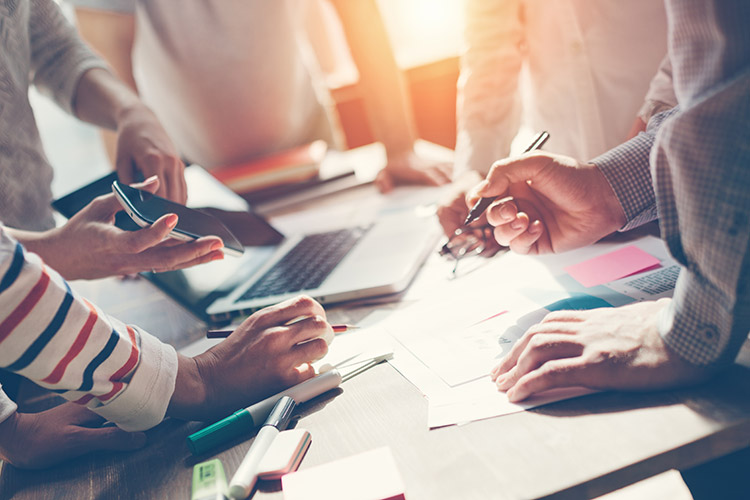 Essential equipment and technology
When it comes to hosting productive team interactions, having the right tools is vital.
We spare no expense when it comes to equipping our spaces with essential equipment and cutting-edge technology. 
High-definition projectors, seamless video conferencing and intuitive interactive whiteboards are just a few of the tools at your disposal.
No more technical glitches to dampen your event – we've got your back with top-notch amenities that empower your success.
Creating engaging and productive events in small meeting spaces
Efficient use of small meeting spaces
Unfortunately, bad meetings are all too common, with surveys reporting that 71% of workers find meetings unproductive. And most of the time, that comes down to bad planning.
Especially when size is a limiting factor, efficient, effective planning is integral to ensuring your day runs smoothly.
So, before the meeting begins, it's important to lay down the groundwork. Establish the purpose of the meeting, clarify who is speaking when and what about and ensure you have a clear agenda for the day.
Planning interactive team-building activities
Have some fun with your event, there's a world of possibility beyond the bog standard lecture.
From challenging problem-solving activities like our emotional intelligence training to unleashing your inner mixologist with our cocktail making challenges, we offer interactive activities to create an atmosphere of excitement and collaboration.
It's easy to transform small meeting rooms into something that sparks creativity and excitement, making your day one to remember.
Creative setups for small corporate events
Here at CCT Venues, we're all about injecting life and personality into our spaces – what's the point in being bland?
Interior design is one of our top priorities at CCT Venues, with splashes of colour on the walls and natural light flooding in. Not only does this help maximise our space and open up room, but it also helps to increase employee engagement – the most important thing as an event host.
Physical environment is proven to play a huge role in overall employee satisfaction, enabling productivity, igniting creativity and boosting overall mood. A happier team is better for business!
Encouraging open communication and networking
Our small event spaces for team collaboration are designed to encourage open communication and networking.
Breakout lounge spaces and versatile, adaptable seating areas become hubs of conversation facilitating idea-sharing among participants.
Let your team's voices be heard, and watch as collaboration and creativity reach new heights!
Overcoming challenges in small event spaces
Managing space constraints effectively
We understand the art of turning limitations into opportunities. Even though our spaces are equipped to host large or small cohorts, it's still important to properly map out the space if you've got a particularly large number of guests.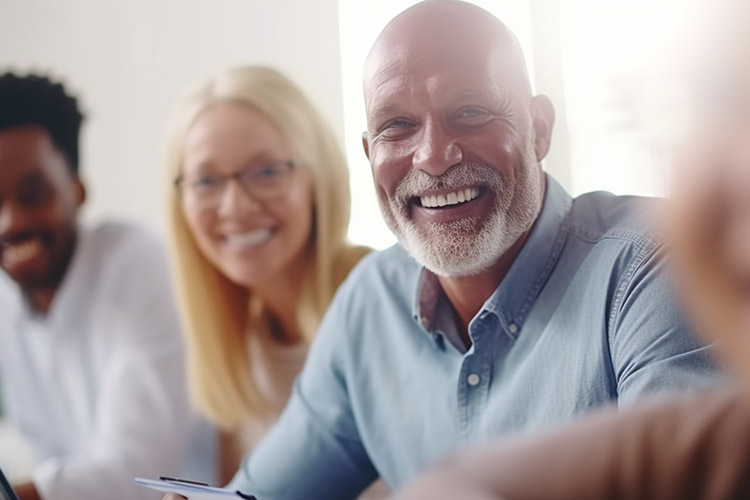 Nobody wants to be cramped in a corner, falling over feet or sitting in a room full of clutter.
Poorly organised rooms lead to a decline in productivity – it's that simple.
Our layout ideas are not just aesthetically pleasing – they are practical and efficient.
We're dedicated to ensuring your event runs smoothly and your ideas flow effortlessly.
Moving seats, organising desks and ensuring everyone can see the screen are just a few easy and simple small meeting room solutions for businesses to host well.
Addressing privacy concerns in intimate settings
Privacy is paramount, especially in intimate gatherings. When you choose CCT Venues, you gain access to secure and dedicated spaces where your conversations remain protected.
Our venues are designed to offer exclusive areas for private discussions. No distractions, no interruptions – just an environment where ideas can be exchanged freely.
When it comes to critical business discussions or confidential matters, we'll be your trusted partner when it comes to hosting an intimate event. Confidentiality is key at CCT!
Handling audiovisual and technical requirements
Though your event might feel intimate in person, you might need to expand your reach. Hybrid events are on the rise, meaning businesses need smaller event spaces that have better technical equipment to facilitate this shift.
From dynamic video conferencing capabilities that bridge distances to flawless live streaming that engages remote participants, we have it all. Our state-of-the-art audiovisual equipment ensures that your presentations shine, your videos play seamlessly, and your attendees feel fully immersed in the experience.
Handling the technical aspects of your event can be daunting, but fear not – our expert team is here to support you at every step. From setting up video calls to troubleshooting technical hiccups, we've got your back.
You can focus on delivering a captivating event, knowing that our dedicated staff are on hand to ensure everything runs smoothly.
Success stories: Small meeting spaces that make a big impact
We're a tried and trusted provider of top-quality meeting spaces, hosting events of all shapes and sizes.
Hear it from the people that matter
From case studies that showcase the transformative power of intimate event venues in London, to heartfelt testimonials from satisfied clients, our spaces have delighted time and time again. But don't just take our word for it - let our clients do the talking!
Read Case Studies
The impact of our small meeting rooms for SMEs reaches far beyond their size. From enhanced team communication to accelerated decision-making, our venues have proven to be catalysts for progress.
Participants have left our events with newfound insights, strengthened connections and a renewed sense of purpose. At CCT Venues, we celebrate these notable outcomes and continue to strive for excellence in every event we host.
Let us be your partner in creating your own remarkable success story. Book your next event with us today and experience the big impact our meeting spaces can make!