Creative meeting rooms: How our spaces inspire innovation
Your business is only ever as strong as the team within it. Without an agile and creative workforce, who can adapt and thrive in a challenging environment; your business' success will be limited.
You might think that a meeting room is just a space, but it actually goes way beyond that. If you're looking to boost creativity, you need something more.
Crafting creativity at CCT Venues
In this guide, we'll discuss the many benefits of creative meeting spaces for businesses in London, hit the links below to jump to each topic:
Our venues are not just four walls and a table – they're creative meeting spaces in London that drive imagination, innovation and excellence
Whether you're looking to get the cogs turning for a brainstorming session, encouraging team-bonding or simply want to make your business conference more exciting, here's everything you need to know about unlocking your team's creativity. Let's dive right in:
The impact of inspiring meeting rooms for creativity
Boring boardrooms? Forget them! Instead, opt for a space that goes beyond the norm – because who says meetings have to be dull and forgettable? Unique, inspiring venues should take attendees on an immersive journey, improving engagement to make them active participants rather than passive observers.
The benefits of well-thought out office design are endless. With strong links to improved team collaboration, employee engagement and higher levels of productivity – there's a lot more to meeting room design than meets the eye.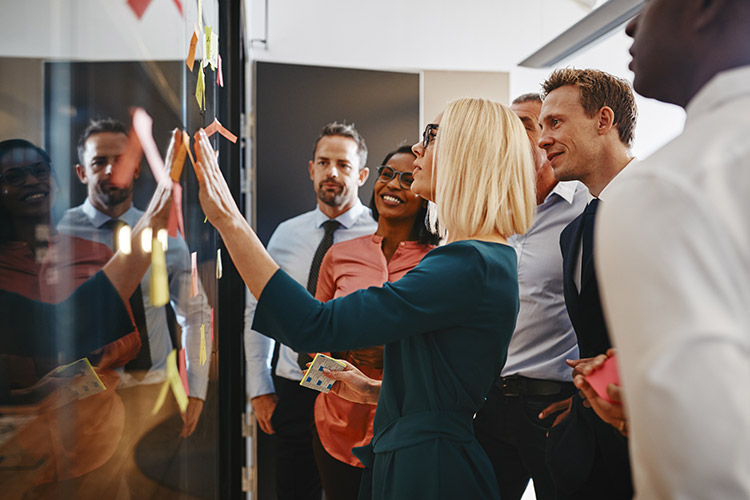 This involves comfortable seating, natural lighting, greenery and a space that's not stuffed to the brim with clutter.
When workers feel free to move around, whether they're getting up for a coffee or heading to the restroom, a decluttered space ensures everyone feels more at ease, less restricted and overall, more comfortable in their setting.
Consequently, they're better-placed to do better work.
That's exactly why every element of our meeting spaces is carefully curated to invoke inspiration and set the stage for memorable brainstorming sessions.
The modern and aesthetically pleasing decor, combined with strategically placed elements, such as artwork and greenery, create a harmonious and visually engaging setting.
Unleashing creativity in city centre meeting rooms
Ergonomic design for optimal comfort and creativity
Traditional boardrooms focus on formality, with people sitting in stiff chairs around a table. How do you expect people to feel relaxed, open to ideas and creative when they're uncomfortable in their surroundings?
Sitting around for a long period of time can lead to drowsiness and fatigue, putting a damper on creativity. However, sitting in a comfortable chair specifically designed for long-term use minimises this issue, keeping minds alert, engaged and ready for the next idea. Essentially, comfort is key.
By making the effort to promote comfort, you're increasing your chances of having a healthier, more productive and creatively fulfilled workforce.
Our furniture is carefully chosen for its ergonomic design, ensuring your team can fully immerse themselves in the creative process without distractions.
Plus, the desks, sofas and chairs can be rearranged in all our venues to suit your team's preferences, allowing them to feel at ease and free to explore innovative ideas in a relaxed setting. But more on space layout and optimisation later…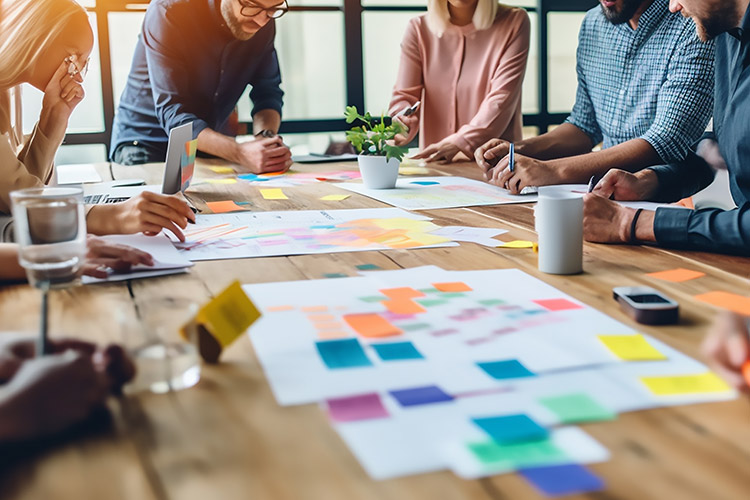 Interior decor for enhancing productivity and focus
Just because you're talking business, not everything needs to be serious. Interior design is the chance to be a little playful and push creative boundaries.
Well-designed interiors and certain colours can have a real impact on workplace productivity, known to improve the overall mood of the room significantly. For instance, bright, warm colours can evoke happiness, while cool colours are designed to make you feel calm and relaxed.
Therefore, a well-balanced room with a nice blend of colours will naturally improve employee wellbeing and as a result, their work.
Nobody wants to sit in a dark, dingy room. Instead, open up your space with an interesting colour palette.
Greenery is known to be a mood booster, with 31% of workers stating that their concentration improves in the presence of greenery. Other than looking pretty, plants can actually help to reduce stress, improve health with better air humidity and even reduce noise levels due to their acoustic benefits.
Plus, the Human Space Report revealed that employees surrounded by natural elements scored 15% higher for creativity than those without.
Both our Smithfield and Barbican venues were designed to be productivity-enhancing corporate meeting roomes, with good interior design at the forefront. After all, the facts can't be argued with!
Vibrant pops of colour inject energy into the space, while calming hues inspire tranquillity and concentration – it's the perfect balance to optimise productivity. Similarly, natural light streams in, inspiring clarity of thought and illuminating brilliant ideas.
Our design elements are not just for show; they're carefully curated to unleash the creative beast within your team, unlocking a wealth of innovative solutions.
What to look for: Choosing the ideal creative meeting rooms in London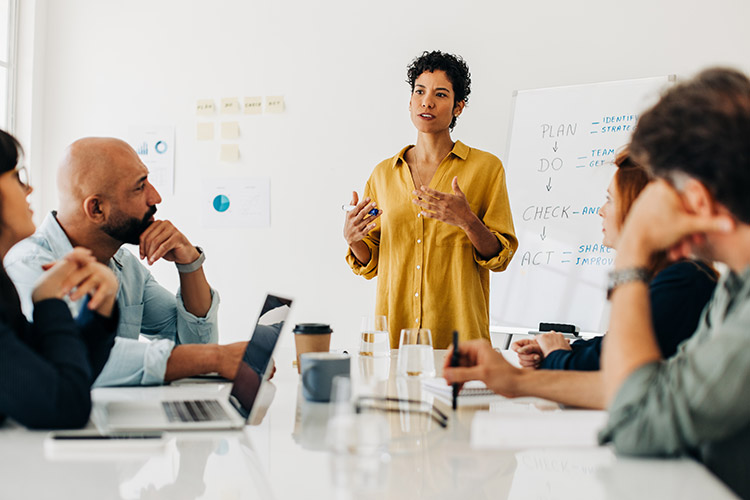 Our spaces are not your average run-of-the-mill venues – they're made to spark imagination and drive groundbreaking ideas.
Customisable spaces that cater to unique needs
One size doesn't fit all, and neither do our meeting rooms!
We believe in the power of customisation, and our creative spaces are ready to adapt to your team, dreams and needs.
Whether you need a spacious area for big brainstorming sessions or cosy breakout rooms for intimate discussions, we've got you covered.
Our spaces are like a blank canvas – ready for you to paint your ideas and create the perfect setting for your team to thrive.
Incorporating technology for seamless creative collaborations
Additionally, our spaces are equipped with state-of-the-art audiovisual tools and interactive displays, ensuring your team can share ideas seamlessly. No more tech glitches killing the creative flow.
Whether it's high-speed WiFi for hybrid hosting or projectors and microphones for talking to a large crowd – we've got it covered.
Fostering innovation in London's top meeting spaces
Redefine what's possible with a creative meeting space! We've crafted environments that spark imagination, encourage collaboration, and inspire breakthrough ideas. The future of your team's innovation awaits, so join us today and get inspired.
Book My Space
Catering
Did we mention the tasty snacks and beverages that keep your team fueled for innovation?
Take our deliciously tasty, budget-friendly Day Delegate Package for instance, which includes everything from the meeting room to the food and refreshments, we're all about enhancing the creative experience in every way possible!
Transformative creative meeting rooms for hire in London
The Big Smoke is filled with exciting businesses looking to do big, bold things. And we want to play a part in that. Through our top-class, exceptional London venues, stimulating creativity is second nature to us.
Utilising the city's energy to drive creative outcomes
A leading creative capital city, attracting worldwide talent, innovation is alive and buzzing in our capital.
Stepping off the Tube and into the city streets is sure to have your meeting guests feeling energised and inspired from the get-go, and we want to make sure that continues as you enter our spaces.
Strategically located in the heart of the metropolis, just a short walk away from the city's iconic landmarks, innovative businesses and diverse communities, your guests will experience a constant reminder that greatness is within reach.
Beyond the four walls of our meeting rooms, the city itself becomes an extension of your event. As attendees step out for breaks, they'll find themselves in the midst of London's hustle and bustle – a perfect backdrop for networking and idea-sharing.
Barbican: Unleashing creativity in the heart of the arts
Located in the heart of London's Barbican Centre, our Barbican venue stands at the epicentre of creativity and artistic expression.
Surrounded by world-class theatres, galleries and cultural institutions, this venue serves as a hub that celebrates the arts and embraces unconventional thinking.
The striking brutalist design that encapsulates the district is an architectural marvel, encouraging your team to push boundaries and explore new avenues.
The Barbican Centre is renowned for its diverse artistic offerings, from cutting-edge theatre performances to thought-provoking art exhibitions.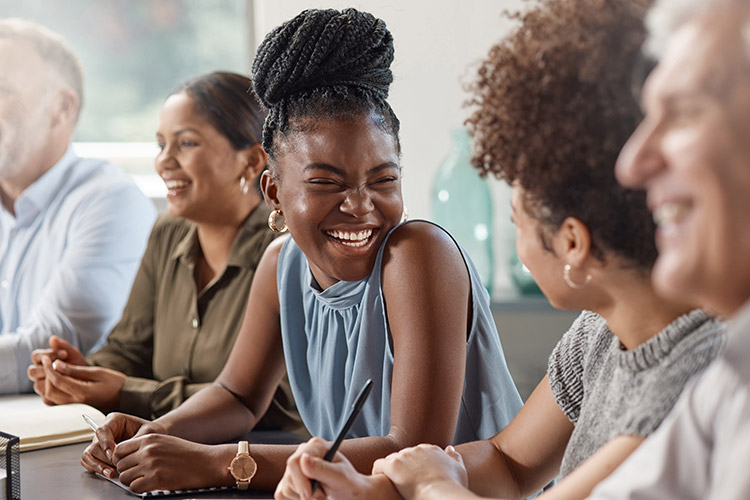 Smithfield: Unconventional creativity amidst history
Stepping into CCT Venues Smithfield venue, located in the historic Smithfield Market, is like stepping back in time.
This venue is nestled amidst the timeless charm of London's oldest meat market, yet it's far from traditional. The fusion of history and modernity creates an environment where unconventional creativity thrives.
Both Barbican and Smithfield are centrally located, providing easy access for teams coming from various parts of London and beyond.
Their strategic positioning makes them convenient choices for businesses looking to host creative events that inspire innovation.
Being in prime city locations, these venues offer numerous networking opportunities for your team. Whether it's a post-event drink at a nearby bar or a stroll through the vibrant city streets, the venues' surroundings encourage connections and idea-sharing beyond the meeting rooms
Planning business events that spark creativity and success
Whether you're hosting a conference, a product launch, or a team-building event, our business event spaces provide the spark that ignites innovation and drives your goals forward.
Designing memorable events with a creative touch
Even though you might have a serious subjects to cover at your event, it's always good to add a little bit of fun. From challenging quizzes to fun, interactive games, there's a whole host of ideas for hosting a fun and engaging event.
However, we understand you might need a little bit of help. That's why we're not just venue providers; we're full service event planners.
That means we don't just provide you with your venue and then you're on your own, unsure and uncertain about what to do next. We provide everything from the food to the activities to make it one that you'll never forget.
We're all about boosting creativity in corporate venues and typically serious business conferences, which is why we offer team-building activities such as cocktail and canape making, filmmaking challenges and more, so you can make the most of the day and add that memorable touch.
Leveraging creativity for networking and relationship-building
In the world of business, connections are the currency of success. From well-designed networking zones that encourage meaningful connections to engaging activities that break the ice, we set the stage for lasting partnerships to flourish.
Ready to let your creativity run free?
Whether it's the artistic atmosphere at Barbican or the fusion of history and modernity at Smithfield, our venues are your gateway to unlocking your team's full creative potential in the heart of London's innovation. If you're looking for business event spaces that spark creativity, you've come to the right place.
Experience the transformative power of our creative meeting rooms in London today – where imagination knows no limits!