London Catering Awards 2019 Shortlist


Our in-house chef teams have been shortlisted within the 2019 London Catering Awards for Best In-house Venue Caterer!
We are extremely excited to announce that our in-house chefs have been recognised for the high quality service and food they produce. Our in-house chef teams have been shortlisted within the 2019 London Catering Awards for Best In-house Venue Caterer!
The London Catering Awards is a new event set up by the London Venue Awards to celebrate and champion pioneering, creative and outstanding catering in London.
In 2010, we brought our catering in-house and as we opened new venues, we installed production kitchens. All our catering has been managed exclusively in-house by our highly skilled team ever since. It is a move that's improved the quality, variety and flexibility of our food considerably. We take pride in providing the very highest standards of service, and our commitment to excellence in catering is central to that.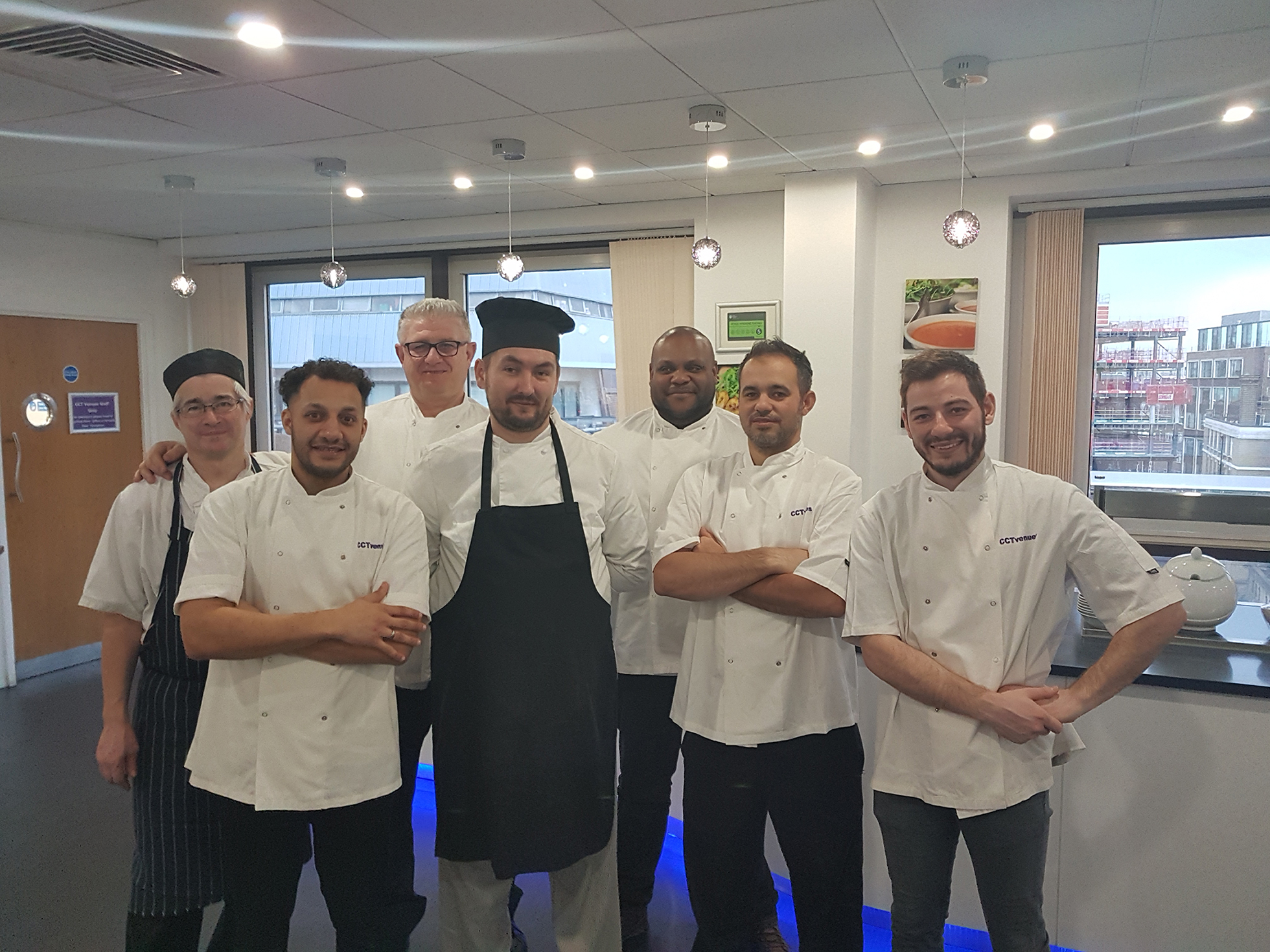 Our award winning Executive Head Chef, Jamian Lewis is endlessly creative, combining emerging food trends with seasonal, ethically sourced ingredients, shaping imaginative menus that delight our clients.
A participant on panel debates, and a contributor to television and charity cookery books, Jamian ensures CCT Venues is always ahead of the competition, offering fantastic quality and choice. Gluten-free food is a standard offering and vegan options are a daily feature.
We actively promote healthy eating and recently participated in British Nutrition Foundation's Healthy Eating Week. Our chefs adapted menus to use less salt, sugar and saturated fats and increased fibre, antioxidants and vitamins, whilst maintaining their usual excellent high standards.
Theming is something we excel at. For example, CCT Venues Bank Street recently hosted a three day event for the African Travel & Tourism Association and all menus were African themed as a result. Dishes included regional favourites such as babotie, jerk chicken, Nigerian Suya-spicy beef, and coconut, plantain and lentil curry. Jamian also invited an African guest chef to cook with his team to add to the authenticity.
Many clients ask for themed catering to support events and therefore, we can create exciting backdrops to complement the food offering at special events. Recent themes include Circus-Night, Latin American festival, Indoor Asian-Inspired picnic, American Breakfast, and an Indian Festival.
Sustainability
We are one of only three venues in the UK to be awarded the IACC Platinum Green Star Award for commitment to CSR, including reducing food waste. In April and May 2019, only 2.8% of our food production became waste, thanks to sound policies and excellent planning.
All of our British-sourced meat is certified by the Red Tractor Association. Our fish and seafood are certified by The Skippers' Catch Scheme and Marine Stewardship Council-approved. Our coffee is fair-trade and NGO Rain Forest Alliance-approved, and our milk is free-range. Not only is this the ethical and environmentally sound choice, it gives us tastier ingredients too.
We further reduce waste by using 'wonky' UK-grown heritage vegetables, and food waste is disposed of in a compostable manner, and used for bio-fuel via anaerobic digestion.
After being informed of the great news, our CEO, Caroline Bull commented:
"As a self-confessed foodie, this nomination means a lot. Superb food service is central to our culture at CCT Venues. In a competitive market it is important to stand out from the crowd and what better way than through our food. Bringing all catering in house in 2010, was the best way to ensure that we stayed ahead in terms of creative, contemporary menu planning. Healthy, ethically sourced food and superb catering service are also really important features and we are blessed with a team who care deeply about the food they serve and the positive feedback they receive from our customers. In 9 years of providing in house catering, we have never received food quality ratings below 9/10 in monthly event organiser or delegate feedback. It's not easy, but this is an area which we are incredibly proud of."
To meet our Senior Management Team, please click here.