Team away day ideas: Activities and locations for your next outing

Though the idea of "breaking the ice" with the team might be enough to fill you with dread, team-building activities can easily be enjoyable and incredibly beneficial for all involved - if thought out and executed properly.
Whether your team outing is a staff skills training day, incorporated into an important meeting or conference, or is simply a day booked purely for team enjoyment, a corporate away day can count for a lot amongst your team.
With that in mind, let's take a look at a few team away day ideas you can suggest to your employees, and where to go to get them booked.
Why are company away days important?
A team that can work together is a team that will work more efficiently. Arranging a day where the entire workplace can forget about their day-to-day work responsibilities and prioritise getting to know each other outside of the formal work environment is essential.
This facilitates bonding (particularly amongst members of the team that don't typically interact with one another), boosts staff morale, breaks down barriers and improves communication.
A 2023 survey by Teamstage into the impact of team building and away days on a workforce revealed that 75% of staff say teamwork and collaboration are crucial to corporate success, and 33% of employees believe fostering a collaborative culture leads to increased loyalty.
There are heaps of added benefits, like reduced stress levels and improved productivity, making the workplace a nicer place to be. And in today's day and age where company culture is becoming increasingly important, being seen to promote that positivity as a business is paramount.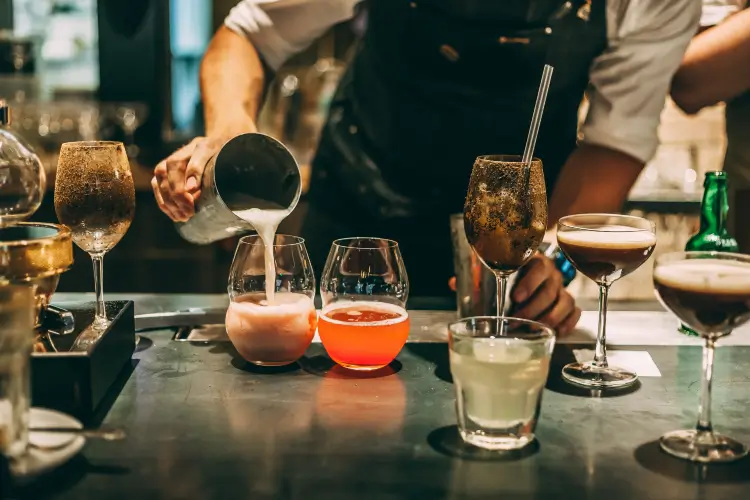 Planning your next outing: Team away day ideas
Cocktail making
This is the chance to say a big "Cheers!" to your team and raise a toast to all their hard work. From minty mojitos to non-alcoholic mocktails, a cocktail making class is the perfect way to have some fun, develop an exciting new skill and even compete against one another to make the tastiest cocktail.
Here at CCT Venues, we offer first-class cocktail making classes in London, ideal for corporate away days. We'll provide the venue – whether you're a small or a large team – the ingredients, the recipes and the equipment, so you can truly put your mixology skills to the test.
Outdoor activity days
For those looking for something a little more active and adrenaline-inducing, why not try an outdoor activity day? From ziplines and kayaking to assault courses and canoeing, there's no limit to the types of team away day ideas you can get up to in the great outdoors.
Wherever you are in the country, there's different types of outdoor activity days to choose from to suit your party size and preferences, and they're an exhilarating way to boost staff morale and work together as a team. Just as a side note, we'd definitely recommend saving these types of adventures for the summertime when the weather is a little warmer.
Filmmaking class
Something a little different to add to your list of away day ideas, a filmmaking class is an excellent way to try something your team otherwise would never dream of doing.
Ensuring everyone taps into their imagination, gets the creative juices flowing and works together to bring a vision to life, we offer a full filmmaking package here at CCT Venues to unlock your full filming potential. Partnering with MDA Training, we deliver an effective workshop based around communication, time management and team building.
Starting with the initial ideas session to the entire creative process, from storyboarding and shooting to editing and showcasing the final product – and of course, judging at the end who produced the best film.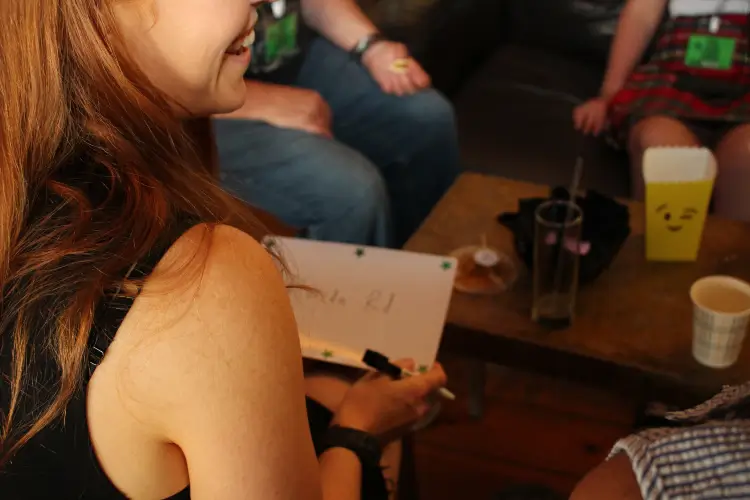 Quiz
Simple, but effective, a quiz is always a fantastic way to get everyone in good spirits. Take the team out of the office to a venue, like our venue in Smithfield Markets, and make a full day of it.
This is a great one to incorporate after an important meeting, or general staff skills training, as it improves staff morale after an information-heavy morning (and brings out the most competitive players in your team).
Just break your employees into teams, come up with your questions and make sure to offer out a prize at the end – whether this be a voucher, a pint at the pub around your meeting venue or something else, we'll leave that part up to you. If you're looking for a space to book out for your quiz, we can provide the event catering and the drinks as well as the event space, so you know you're accounted for for the entire day.
Cook-off competition
Fancy showing off your skills in the kitchen? A cooking class might be just the ticket – after all, the way to someone's heart is often through food. Whether you split into two large teams and assign each other roles in the kitchen or compete in smaller groups for the masterchef, this is a great chance to cook up a storm and polish off those skills.
These types of team building activities require everyone to work together and put in the effort, and often requires someone to put their leadership skills into action. If your perfect company day away comes in the form of food, we've got an expert-led, tasty canapé making class. Choose from any of our London venues and let your team get to work, all under the guidance of one of our talented chefs.
Planning your next team trip
With our Smithfield and Barbican venues, both located in prime locations in London, we're your go-to choice for team outings and away days in the capital. With flexible, accommodating spaces in both of our venues, each ideally located and fully equipped, we have everything you need to host corporate away days.
We do more than just provide the space, we can help you plan your activity, too. From event catering to cocktail classes, just tell us what you're looking to gain from your trip and we'll get to work planning a team away day to remember.