Busiest central London tube stations

Welcome to London! Whether you're a seasoned Londoner or an enthusiastic tourist, you'll already be familiar with the capital's iconic tube system - but do you know which London tube stations are the busiest?
Estimated to host around 1.35 billion people per year, the London Underground, or the Tube, is a quick and convenient way to get around the city – whether you're heading to work, heading home or getting ready for a night on the town.
For those travelling for business purposes, knowing which central London tube stations get busy, alongside which are the most ideally-located, can help save you a whole lot of time and stress – especially if you're rushing to a meeting or an event.
Streamline your commute around the capital city
Want to jump ahead to your local underground station? Here are some quick links to help:
Otherwise, let's take a look at which central London tube stations will pick up the most traffic and pass on a few top tips for navigating the underground like a true London local.
Which are the busiest central London tube stations?
First things first – let's talk about central London transport as a whole. The tube is just one part of a vast network of buses, trains, trams, and river boats that can take you anywhere in the city.
But out of the lot, the Tube is definitely the most convenient mode of transport to nip around the Big Smoke.
Though convenient and quick, the Tube certainly gets busy. With that in mind, it's good to know the ins and outs of each station and route. So, let's get down to business. Here's some of the busiest tube stations in central London: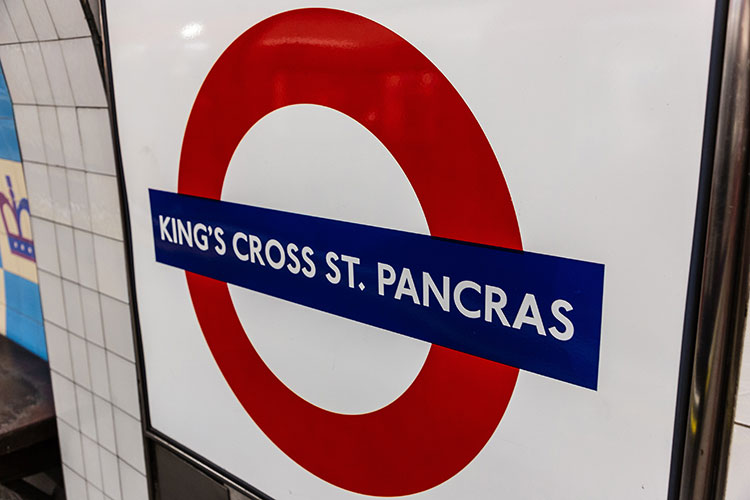 King's Cross St. Pancras Station
This will come as no surprise to anyone, but King's Cross is one of the top tube stations in London, often battling Waterloo for the top spot. In 2017, King's Cross registered 97.9 million entries and exits.
Serving as a major interchange for several other tube lines, as well as national and international rail services, the footfall over at King's Cross is astronomical. And let's not forget about Platform 9 ¾ – one for the Harry Potter fans!
Served by the Northern, Piccadilly, Victoria, Circle, Hammersmith & City and Metropolitan lines, these great connections show that it's one of the busiest tube stations for good reason.
A central tube station, you can get to both Farringdon and Barbican tube stations in as little as 6 minutes, perfect if you're heading out to a meeting at our Smithfield or Barbican venues. Just hop off, head out, escape the bustling crowds and enjoy your meeting stress-free and on-time.
Car parking is pretty accessible near the station, such as the Handyside Car Park, which is open 8am-10pm, or 24/7 parking which can be found near the St. Pancras Railway Station. If you prefer to travel actively, there's over 100 parking spots at King's Cross to ensure your bike stays safe and secure while you go about your day.
Travelling is sure to work up an appetite, so why not head over to Rails Restaurant & Little Bar? Serving up delectable, modern British cuisine – finding food isn't an issue when you're in the heart of the city.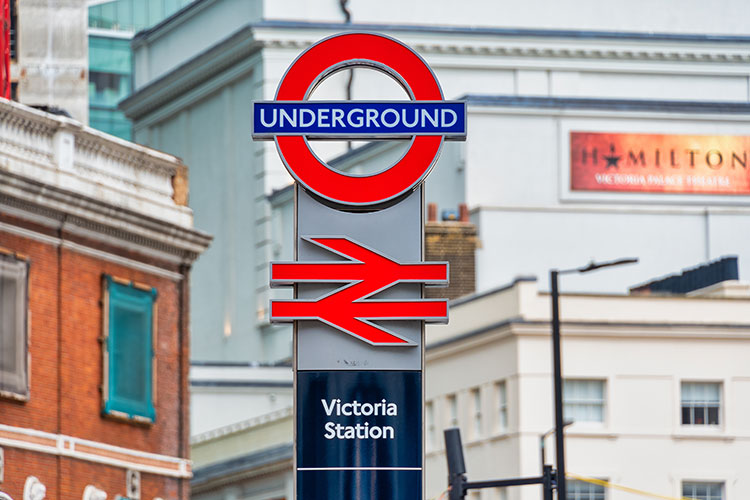 Victoria Station
Another major transport hub, behold Victoria Station London Underground, which serves as a gateway to both Gatwick and Heathrow airports – waving off its passengers with a speedy airport transfer.
So, it makes sense that Victoria Station is one of the busiest tube stations in central London. Bustling with tourists, business-goers and jetsetters rushing to catch trains and flights, Victoria Station is fully occupied with people every single day.
A short 2-mile distance from both Farringdon and Barbican stations, you won't have to worry about a complex train route if you're heading to our London meeting venues. Hop on the Victoria, District or Circle lines, and enjoy an easy connection to the vibrant heart of central London.
Car parking at QPark is available 24/7 near Victoria Station, though spaces are limited and the fee isn't cheap. Instead, make use of another means of public transport by heading out to the Victoria Bus Station at Station Front to make your commute a breeze.
Once you've explored to your heart's content, refuel over at The Ivy Victoria for a taste of elegance. Serving up all-day dining with a varied menu, ranging from contemporary British classics right through to Asian-inspired delicacies – you won't be left disappointed.
Or, experience the vibrant atmosphere of the Riding House Café, where you can enjoy a delicious, luxurious dish and wash it down with a perfect wine pairing.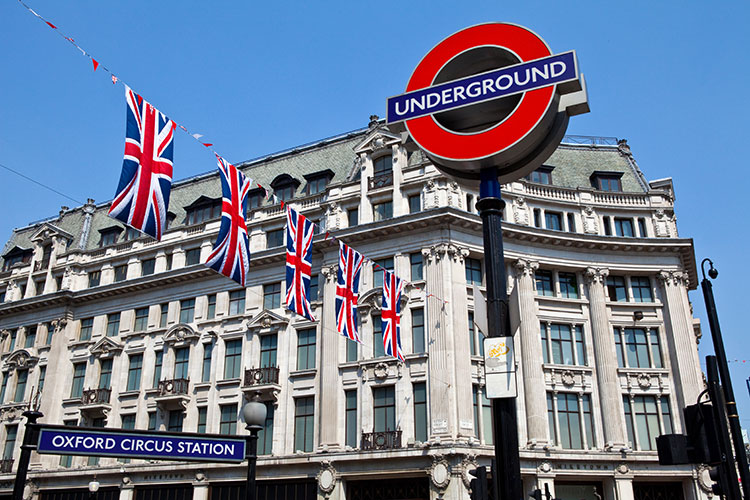 Oxford Circus Station
Swarming with commuters, tourists and shoppers, Oxford Circus Tube Station is a busy one, also home to one of the busiest pedestrian crossings in the world – so be prepared to dodge crowds of people when heading out here.
Anyway, let's talk about location. This central London tube station is located just 1 mile south of King's Cross, Oxford Circus Station sits in the heart of London's shopping district and West End – a direct link to Oxford Street and Regent Street. Step onto the Bakerloo, Central, or Victoria lines and find yourself surrounded by retail and entertainment at every turn.
Or, if you're heading out for work purposes, you will find yourself just a stone's throw away from both Farringdon and Barbican stations – great news if you've got a meeting, conference or training session at our Smithfield or Barbican venue.
While parking is a little tight and incredibly limited, London's exceptional public transportation systems will save the day. Numerous tube links and bus routes head directly in and out of Oxford Circus every minute, so it's best to leave the car at home.
And when hunger strikes, Dishoom is one of the most popular places to eat in central London for a tantalising taste of Indian street food, but it's often busy, so make sure to get a reservation!
Alternatively, enjoy a taste of Italy with Venetian-style small plates over at Polpo, where the talented chefs use seasonal ingredients to cook up perfect culinary delights. With plenty of foodie havens nearby, you won't be short of places to go to regain your shopping stamina!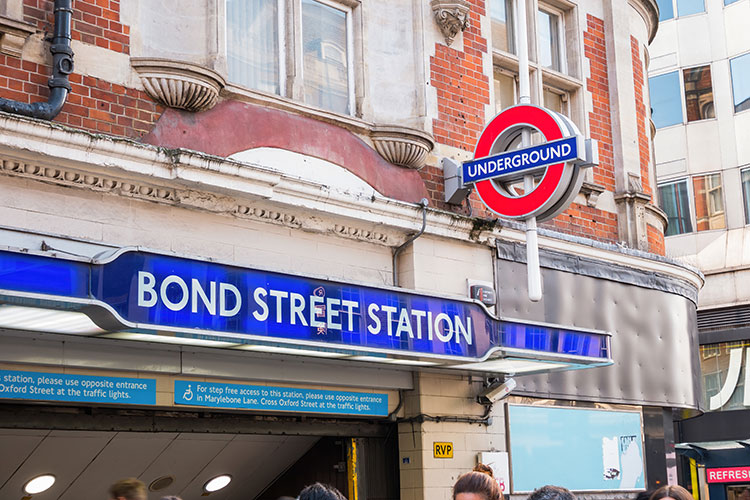 Bond Street Station
For those who appreciate sophistication and enjoy the finer things in life, Bond Street Tube Station beckons. Located roughly 2.5 miles from Farringdon and Barbican stations, and 2.5 miles west of King's Cross Station, Bond Street is your vibrant first-class ticket to Central London's class and style.
As you step off the Central or Jubilee lines, you'll be surrounded by world-renowned brands and a sense of refinement that's hard to resist – it's no surprise it's a busy station in London.
While car parking facilities nearby are limited and pricey, a range of bus routes awaits you, ensuring that you can easily reach your shopping destination in style.
When it comes to dining, the sophisticated allure of Sketch awaits, where every dish is a work of art and sure to leave you planning your next visit.
Alternatively, explore the innovative creations at The Social Eating House and satisfy your cravings for culinary excellence. At Bond Street, you'll never feel far from the buzz of our capital.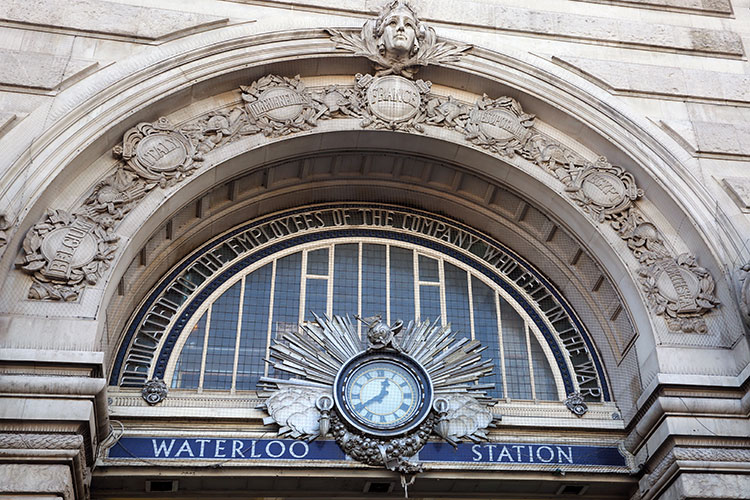 Waterloo Station
Waterloo Station London Underground is a major hub for commuters travelling to and from south London, as well as a popular destination for tourists visiting the London Eye and the Southbank Centre. Prepare to be captivated by the allure of Waterloo, which is situated around 2.5 miles from Farringdon and Barbican stations.
Serving as a vital connection point for the Bakerloo, Jubilee, Northern, and Waterloo & City lines, this central London tube station stands approximately 2 miles southeast of Kings Cross Station. From here, the mesmerising wonders of the Thames are at your disposal.
With extensive bus connections nearby, exploring Central London couldn't be easier. After immersing yourself in the beauty of the riverside, refuel your senses at The Oast House or Skylon.
Serving up decadent dishes, famed mostly for their loaded fries, The Oast House is sure to leave you feeling full. For something a little more sophisticated, enjoy a set menu over at Skylon, where you'll find breathtaking views and mouthwatering delights.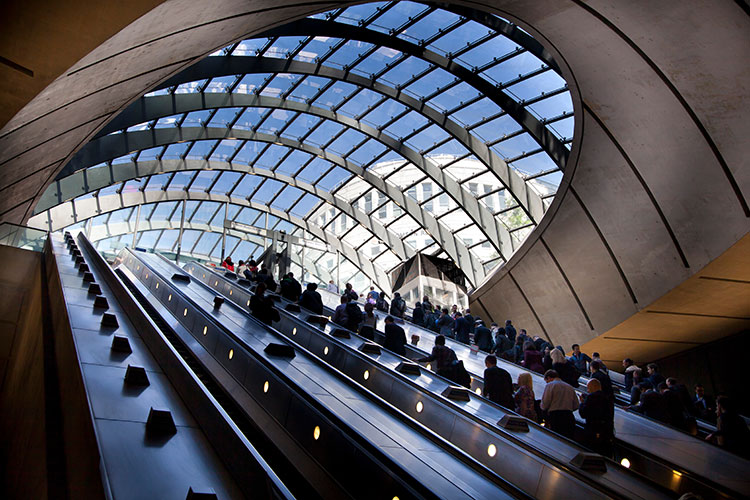 Canary Wharf Station
If you seek the bustling heart of London's financial district, look no further than Canary Wharf Tube Station. Situated around 5 miles from Farringdon and Barbican stations and 5 miles southeast of King's Cross, Canary Wharf serves as a vital connection for the Jubilee line. A dynamic neighbourhood, this thriving hub exudes modernity and sophistication.
Canary Wharf Station is extremely well-connected, offering numerous bus routes and the Docklands Light Railway (DLR) Station to ensure reaching and leaving this destination is seamless.
Once the day's travelling is done, go ahead and tuck into a tasty barbeque over at Big Easy Canary Wharf, or enjoy a truly unforgettable dining experience over at The Pearson Room for a blend of casual and refined dining.
And let's not forget about the cocktail menu! Finding restaurants and bars near London tube stations is never a worry, just step outside the station and see where the night takes you.
Commuting to CCT Venues
Barbican Venue
Located directly next to Barbican Underground Station, accessing our Barbican venue couldn't be easier when you've got the London Underground at your disposal. But that's not all—the convenience doesn't stop there! With Farringdon Underground and Elizabeth line stations just a short 5-minute walk away, and St. Paul's Underground Station within a leisurely 15-minute stroll, you have an array of transport options at your fingertips. Talk about stress-free commuting!
Smithfield Venue
Nestled in a fashionable area of the capital, our Smithfield venue is strategically placed for an effortless commute. Farringdon Underground and Farringdon Elizabeth Line stations are a mere 5-minute walk away, while Barbican Underground Station is also conveniently nearby. Whether you're arriving from within London or travelling from afar, reaching this venue is a breeze.
Stay connected
Our venues are well connected to some of London's busiest tube stations, including King's Cross and Oxford Circus, meaning you can access our meeting venues from all corners of the city. So, what are you waiting for?
Grab your Oyster Card and enjoy your trusty ticket to seamless commuting in and out of central London's tube stations, making your next business event a breeze!