The miaList 2019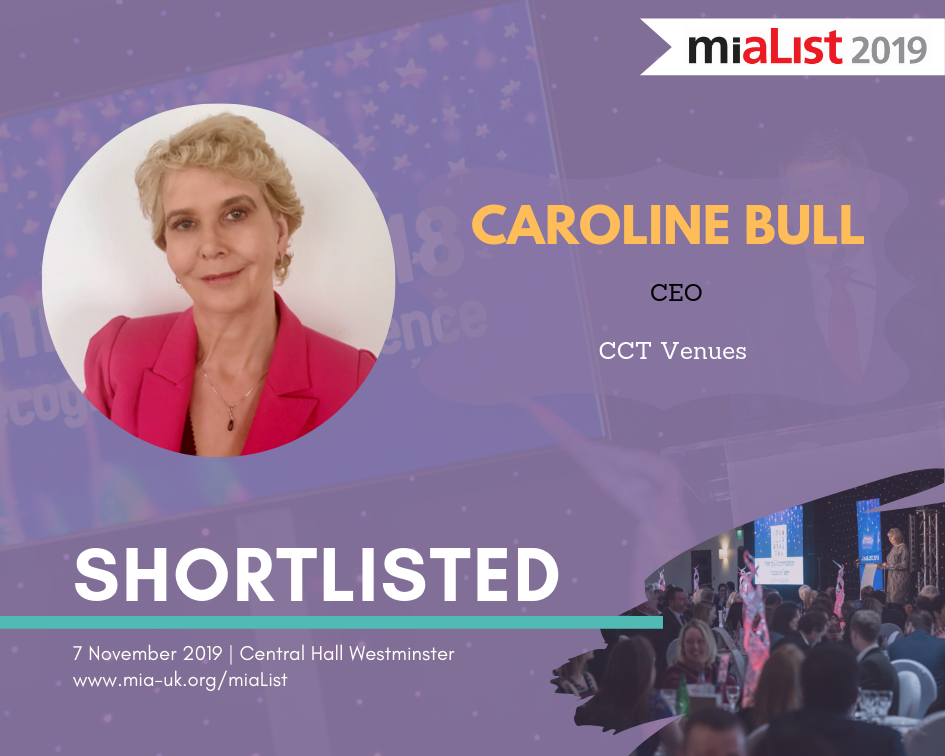 We are proud to announce that our CEO, Caroline Bull has been shortlisted for the miaList 2019!
The miaList was originally created by the Meetings Industry Association (MIA) to mark their 21st anniversary and is now a landmark annual industry event. The miaList recognises and rewards individuals within the industry who go above and beyond the call of duty, are hardworking, enthusiastic, inspiring and have such a positive effect on all they do. All of the individuals nominated to appear on the miaList go through a rigorous judging and assessment process.
There are several reasons as to why Caroline has been nominated; she has been a leading light in the independent London venue industry for over 30 years, independently set up CCT Venues in 2005, and is constantly going above and beyond to grow her business, while creating a positive working environment for her staff. She is also very charitable and cares deeply about external issues, such as gender equality and running an environmentally friendly organisation.
Caroline shares her personal story at all Staff Inductions, encouraging new employees to make the most of their time working for CCT Venues, but also to embrace wider ambitions for the future. At these meetings she talks about her core values from 2005 which still holds true today and include:
To have a strong reputation as a high quality service provider;
To be an excellent employer and operate a thoroughly ethical business.
As the business has grown from an independent start up in 2005, to a business with 4 London venues, all with strong reputations for service and quality, core values have remained central.
Caroline genuinely cares about her teams and loves nothing more than seeing people promoted. Of the current team, 36% have been promoted and of these, 37% have been promoted more than once. To facilitate this, training and development, including internal internships where employees get the chance to have a trial in a different role or department, and regular in house and external training courses are a serious commitment in the business. Strong communication within the business is also prioritised, and staff briefings, which are full of information as well as prizes and treats, are a regular feature.
CSR is also taken seriously and CCT Venues have been supporting food banks through the First Love foundation in Tower Hamlets since 2017. CCT Venues, also won a silver award for Best Venue for Employing Women and Gender Equality, in the 2018 London Venue Awards and has been a regular winner in the Clean City Awards, including winning the coveted Chairman's Cup.
On the news of her shortlist, Caroline commented:
"I am really touched to have been nominated by the team for this award. Starting and building CCT Venues has been a privilege and I feel extremely lucky to work with such great clients and colleagues over the past 15 years at CCT Venues, and for 15 years before that, in this amazing industry. Hospitality is endlessly challenging and satisfying and having seen the independent London venue business grow from practically non-existent in the late 1980's, to the multi million pound, thriving and dynamic industry that it is now, has been a real pleasure. When I opened my first venue in 1992, as part of a small team of trainers and consultants, venue facilities were fairly basic and our focus was primarily on service, but today the business is far more complex and exciting. The physical environments, with stylish interiors and superb IT, alongside the world class catering services, are a far cry from those early days.
Every day brings with it new challenges but I am delighted to still be thoroughly enjoying them and would like to thank my wonderful colleagues for this nomination."
To meet our Senior Management Team, please click here.