Stop Food Waste Day

Stop Food Waste Day is celebrated in April each year and is a day dedicated to raising awareness of the issue of food waste, the impact it has on the environment and aims to educate individuals and businesses on how they can reduce the amount of food they waste.
Producing, moving and storing food uses energy and contributes to pollution, which in turn contributes to climate change. The global food system is estimated to contribute around 30% of greenhouse gas emissions. 33% of all food produced globally is lost or wasted every year. In the UK, this equates to 4.5 million tonnes of food each year that could have been eaten.
At CCT Venues, we aim to minimise our impact on the environment in every way possible. Food waste is a particularly important issue for us, especially because the events industry on the whole is known for being a big contributor to the food waste crisis. According to M&IT Magazine, a third of event planners admit to throwing away at least 15% of the food prepared for events.
Challenging the Stigma
We are aiming to change this stigma. We minimise our food wastage as much as possible and all of our by-products are weighed so that we can keep tabs on our wastage to ensure that we are constantly improving and becoming more efficient. Our current wastage equates to only 5% of food (which predominantly consists of fruit and vegetable peelings and egg shells etc.). This however, does not go into landfill, we work hard to make sure our waste is dealt with sustainably. For example, our food waste is converted into bio-fuel and our coffee waste gets converted into fuel logs!
We have introduced biodegradable products in all of our food service areas and have even invested in compostable bin liners for our food waste (otherwise it would be considered general waste). Time is spent sorting all of our waste to ensure everything is sent to the correct disposal facilities and can be adequately recycled.
We have consolidated our suppliers and strategically plan our orders to minimise the amount of trips needed to deliver our ingredients, thus reducing our carbon footprint.
We believe that waste reduction is everyone's responsibility, which is why we have introduced compulsory staff training on waste as part of our induction programme, to ensure that everyone that works for CCT Venues is aware of their part to play in minimising waste. We even encourage staff to bring in refillable bottles rather than plastic bottles!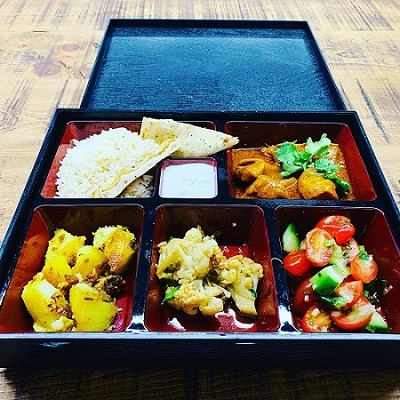 Covid-Safe Catering
Covid-19 almost created a bit of a challenge for us in regards to our fight against unnecessary waste, due to the added hygiene and safety implications. However, rather than accepting defeat, we saw it as an opportunity to completely re-evaluate and modify the way we serve our food.
That's why we now offer our clients a socially distanced, Covid-safe table service lunch. Our team of in-house chefs cook each meal to order, ensuring that it is extremely fresh and that there's no leftover cooked food at the end of the day. At the same time, it makes it a more enjoyable dining experience for our clients.
Everyone that has been working from home in recent times will understand the struggle of trying to come up with new ideas for lunch each day, so we can assure you that getting to enjoy our chef's healthy and delicious, freshly cooked meals will definitely be a welcomed treat!
If you would like to hold your next event in a sustainable and environmentally conscious venue, get in touch with us today.