Importance of AV for Events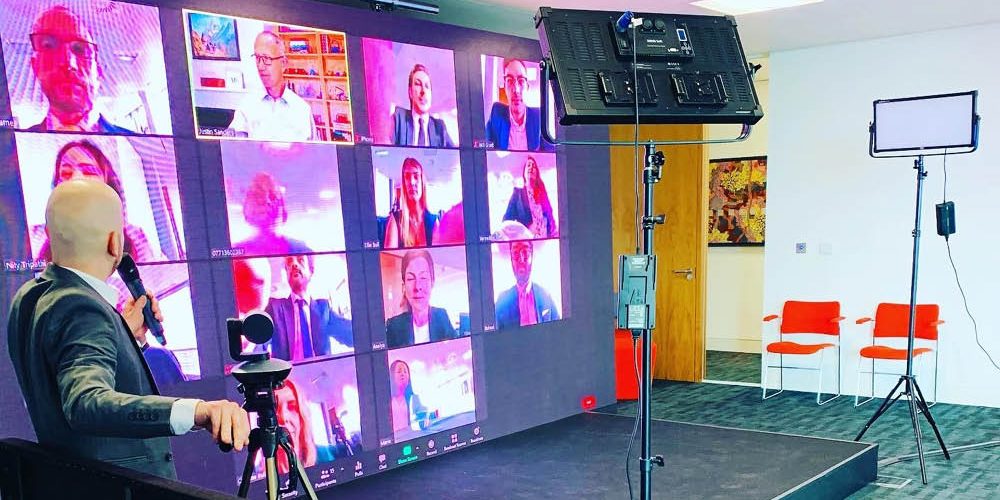 Why is Audiovisual Equipment Important for a Great Event?
Good quality audio visual (AV) equipment is essential for a successful event. AV is electronic media possessing both a sound and a visual component. To put this into context, think about how quickly you would lose your attendees interest if your speaker was just speaking at them and there were no visual aids or anything to interact with. On the flip side, think about how attendees may infer the wrong message if they were shown a presentation with no one there to guide the audience through it and to add value. After all, it is proven that the more senses that are engaged, the easier it is for humans to learn something.
Therefore, to keep your attendees interested and engaged throughout your event, you need to engage as many of their senses as possible. But don't worry, AV is your answer!
Benefits of AV Equipment
Using AV equipment essentially brings your event to life, whether it is a presentation, a speech, a conference, training or even just a standard meeting. When utilised correctly, AV will engage your audience and help them to connect with the message you are trying to convey and it will leave a longer lasting impression on them, so that your message stays with them long after your event has concluded.
You may be asking how? Well, studies show that the use of AV in classrooms is highly effective as it stimulates the class better, resulting in improved grades for students. Therefore, seeing as we use the same techniques to learn all throughout our lives, the same is true for all types of events that require audience connection and participation.
AV usage will help you to:
Get your audience's attention and retain it
Make your presentation easy to follow
Keep your audience stimulated
Engage your participants and encourage them to participate
Convey complicated or confusing messages/ Help you to illustrate large amounts of data or abstract concepts
Highlight key messages and create consistency in terms of the lasting impression you are leaving with your audience
Stay focused on the points and message you are trying to convey, give your presentation structure and minimises mistakes
As well as engaging your attendees that are in the room, AV can also be utilised to maximise the accessibility of your event. As we all know too well now due to the recent and ongoing Covid-19 pandemic, attendees won't always be able to attend your event in person. AV can be used to live stream your event, allowing people to attend and participate from all over the world. Studies show that events which incorporate live interaction tools are more likely to get repeat attendance than those without any technology stimulating interaction.
Also, if you record your event, you can make it available to people that were unable to attend the event in person and also people that you had no knowledge of when you were inviting your attendees. Therefore, rather than limiting your impact to just those that were in the room, you can create an asset that can be utilised over and over. A one day event can reap you rewards for a lifetime.
How do you know what AV you will need?
Here are some things to consider:
Audience – How large is your event? You may need enhanced audio systems, multiple microphones to enable audience participation and repeater screens.
Atmosphere – Does your event have multiple parts? Is there a particular mood you are trying to convey? Lighting can be a great way to set the tone, for example dimming the lights to encourage the audience to focus on video content.
Accessibility – Do you want to live stream the event or make a recorded copy available afterwards?
AV Requirements
Once you have had a good think about what AV you will require, you will need to find a venue that can accommodate your requirements. However, make sure you look at everything else as well as the AV capabilities. There's no point in putting in loads of effort to get this far, for your attendees to turn up on the day and be completely underwhelmed by the venue!
We have all been to an event where the room was too packed, there were tech issues, the room was too hot, your view was obstructed or the chairs were uncomfortable. In these situations you probably zoned out or switched off completely and looked for the first available opportunity to leave. Don't let this be your attendees. The venue should be optimised for engagement, not working against it.
A lot of AV systems require high speed Wi-Fi to work effectively, so ensure that this is something the venue has invested in.
Is the venue flexible? No matter how organised you are or how much planning has gone into your event, we all know that things don't always go to plan. Maybe you have 20 people that have confirmed their attendance last minute or you have a speaker that has dropped out last minute, requiring you to completely change the structure of your event. Therefore, you want to ensure that the venue is flexible and able to accommodate a range of set ups and ability to change last minute.
Will there be AV technicians to help out? Technology can go wrong and it's not always a case of switching it off and on again to fix it. So make sure the venue will have experienced AV technicians available throughout the day.

Our Capabilities
As well as being modern and easily accessible, our venues have been designed to inspire and to foster creativity. All of our rooms are flexible and we will work with you tirelessly to ensure your event is exactly how you have envisioned it.
We have state of the art technology and industry leading AV equipment. Our projectors are up to 6,000 lumens. Our Wi-Fi is 100MB. Our rooms have lighting control and can be blacked out. Our large rooms have multiple display to ensure that all attendees have a good view. We use wireless radio microphone/ wired mics which are adaptable for every type of event. We have the capabilities to live stream (including live Q&A's, panel discussions and webinars etc.) events worldwide and offer event recording services. We have state of the art Audio Conferencing and Video Conferencing facilities, with high definition Webcam's or VC Codec.
We also have highly experienced AV specialists that are always available just in case you need a hand or if you have any last minute changes.
If you have any questions about our AV equipment or if you would like some assistance organising an event, please don't hesitate to get in touch.