Christmas (lunch) Comes Early to Tower Hamlets


CCT Venues big Christmas lunch for local people in need, puts us all in the Christmas mood
Over 38 local families, currently experiencing challenging times, enjoyed a delicious free Christmas lunch at our Canary Wharf training and conference space in South Quay today.
We hosted and funded the lunch through our partnership with local foodbank charity First Love Foundation. And with our spacious training venue transformed into a festive space, guests from across the borough enjoyed a delicious Christmas lunch prepared by our award-winning in-house chefs and served by the CCT Venues staff and directors.
With children making up about half the guest-list, there was fun for all with face painting, balloon modelling, games, and bags of fun. There were also counsellors and support workers on hand to offer practical advice to those in need.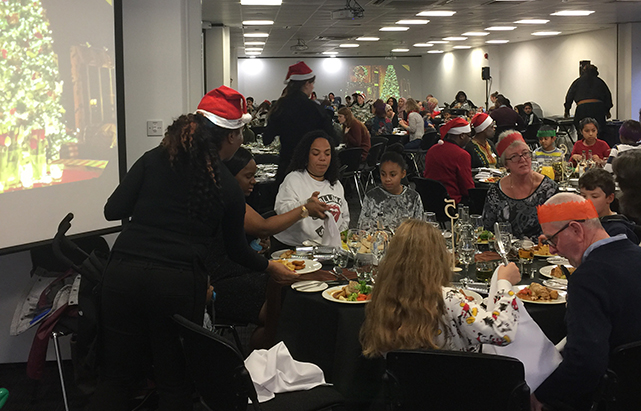 Christmas lunch, fun and a helping hand
Our lovely staff really rallied to help out on the big day and also made generous donations of presents and cash to add to the food parcels and Christmas gifts distributed to appreciative guests at the end of the afternoon – making sure everyone went home with food for Christmas.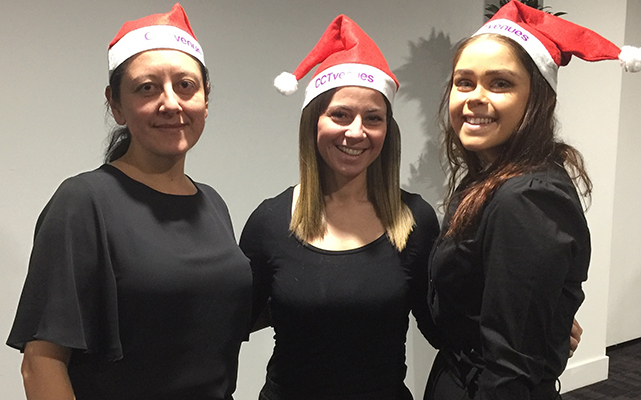 After all, our guests were all local people who had been recommended to First Love Foundation by local agencies.
Room for more support in Canary Wharf
"With two venues with lots of rooms to hire for training and meetings in Canary Wharf, we're very close to the local business community," explains CCT Venues CEO Caroline Bull.
"But I'm equally aware of the disturbing level of food poverty experienced by local people who live so close to the wealthy Canary Wharf business district. Healthy, delicious food is a key part of what we offer clients, so it seems fitting that it's also a way we can support the local community. Once I'd seen the amazing work of the foodbank first-hand, hosting a Christmas lunch for them felt like the right thing to do."
Many other companies and individuals also supported the event giving their time, services and money to provide a truly special occasion.
CCT Venues plans to continue to provide support First Love Foundation by donating food and sending teams to help at the foodbank throughout 2018.
About First Love Foundation
First Love Foundation is a Tower Hamlets foodbank charity which also offers advice and support to address the underlying issues of food poverty. They sit down with every person who comes through their doors, listen to their story and aim to understand why they are facing crisis in their life – in order to offer practical support and advice. All their clients are given an emergency food pack (enough for three days), which is donated by the community – schools, churches, individuals, businesses and at supermarket collections.