Meet the Team – Jamian Lewis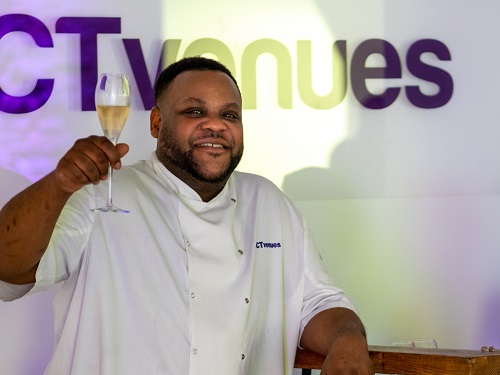 Meet Jamian Lewis, our Executive Head Chef
Jamian Lewis joined CCT Venues in 2014. Here's what he had to say about working for CCT Venues:
How much experience do you have being a chef and how much experience in the events industry?
"I am classically trained with over 25 years' experience as a chef. I have worked in the conference and events industry for 12 years of those years."
Why do you enjoy being a chef?
"My love of food! I enjoy being creative and producing something that makes people happy each day."
What inspired you to be a chef in the first place?
"My late mother, she was a big inspiration in my life and was an excellent cook with a great reputation for it. Everyone says that their mum's food is the best which is true, but my mum could turn her hand to anything, with just a few ingredients she would create amazing tasty food which is what inspired me the most."
Are there any benefits to being an Executive Head Chef of a venue compared to a restaurant?
"The challenges are the same, but the main benefit of working in this environment is the hours, a good work-life balance is achievable. So when I'm at work, I have a clear mind and can be as productive and creative as possible."
What motivates you in your job?
"I always get immensely positive feedback about my food which is quite nice. Also, working with clients such as Experience Africa and Latin American Travel Association to create bespoke menus exclusively for their events is not only motivating, but very rewarding when it all comes together."
What's different about CCT Venues compared to the previous companies you have worked for or other venues?
"The culture of the company is great, working closely with the CEO and Operations Director means your ideas are heard first hand and you are listened to."
How do you ensure that the food you create can be enjoyed by everyone, even those with allergies or a restricted diet (such as vegans)?
"By applying a customer-focused, dynamic, knowledgeable approach to food and being considerate by putting myself in their shoes. I always ensure that everything is as healthy as possible and that there is a wide variety of different dishes on offer, so there's always something for everyone. Assessing the food service and environment is equally as important to the food you create and serve, it's the whole package which creates a great experience."
Final thoughts…
"The dishes I create take inspiration from many cuisines. My favourite food is classic French, as this was the base of my training, but nowadays I do enjoy a good BBQ. I'm looking forward to getting back to the kitchen so I can get back to spreading happiness with my delicious food!"
To meet our Senior Management Team, please click here.