A fully-serviced, customisable virtual venue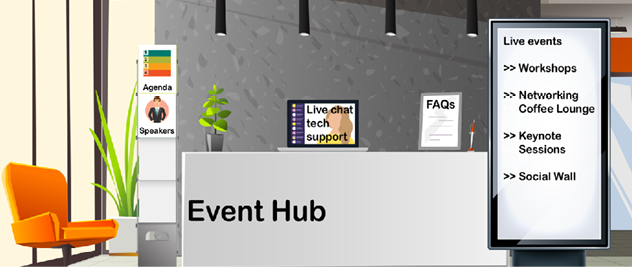 Welcome to our virtual venue, the newest addition to our portfolio of venues. We have partnered with MDA Training, who have developed a unique, fully serviced, customisable virtual venue, designed to bring your online events to life.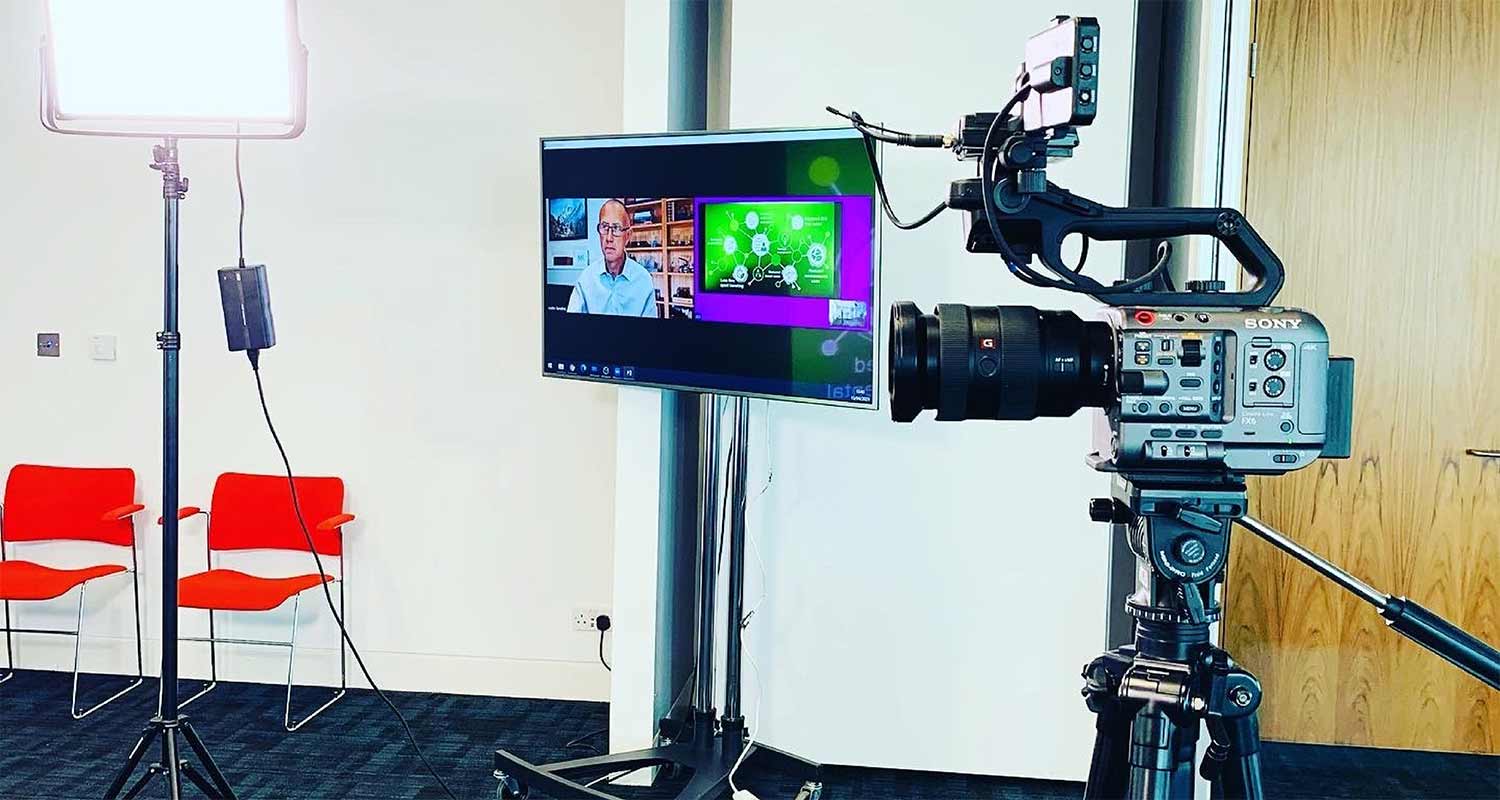 By utilising our virtual venue, with a range of features including a bespoke virtual welcome reception and breakout rooms that emulate anything from a boardroom, classroom or conference setting, you can give online attendees an engaging event experience that's as close as you can get to an in-person event. No matter where the online attendees are in the world, they will feel like they are in the room with the in-person attendees, giving everyone the ability to collaborate and engage with each other. We will provide all the support and expertise you need to plan, host and deliver an unforgettable virtual event, so you can sit back and relax knowing that everything is being taken care of.
Virtual Venue Features
Our virtual venue can be tailored to suit your specific needs, but as standard, it comes with the following:
Website – A bespoke branded event landing page that has the ability to receive registrations and take payments.
Event Hub – The landing page will act as a hub for your attendees, providing them with links to the agenda, the speakers and our virtual venue.
Virtual Venue – The starting point of our virtual venue, like physical venues, is the reception. From here, attendees can see which events are currently taking place and join in at the click of a button, chill out in the coffee lounge to find likeminded people to connect with or visit the social wall, which hosts social media feeds and highlights recent activity.
Customisable Virtual Venue Hall – You can decide on the type and the amount of virtual rooms you have, as well as the design of the Virtual Venue Hall.
Augmented Reality – Once attendees have joined a room, you have a wide range of options of how you want the content to be displayed. Rather than seeing what the in-person attendees see, you can add augmented reality elements that will make it far more engaging for your online audience, such as a newsroom or boardroom setting. You can even set a countdown so that they know how long they have for breaks and how long until the next session starts.
Real-Time Audience Interaction – Online attendees can interact with the speakers and the live audience as if they were in the room. The in-built tech within our venues makes it possible for you to have a mix of online and in-person attendees in breakout sessions.
Increased Reach – Our virtual venue is capable of hosting up to 45,000 online attendees.
Compatibility – Our virtual venue can integrate with all of the leading conference platforms, such as Zoom and WebEx and is also compatible with both desktop and mobile devices. We can recommend the right platform and technology for your event.
Hassle-Free – Technical problems are the biggest worry for the majority of virtual event organisers, as there are so many things that could potentially go wrong. However, if you use us, this no longer needs to be a concern. One of the features within the virtual venue is a live chat technical support function that can be utilised by any of your online attendees that need some help or have a question to ask. For hybrid events, we have onsite technical support that will be on hand throughout your event and also to set up and test everything pre-event.
Expertise – We can provide all of the expertise you may require, from content creation, to videographers, to event hosts, to production managers.
Increased Shelf Life – We can record both the physical and virtual elements of your event and produce a condensed video for you to use for marketing purposes or to share with your attendees, a video summarising the key points your keynote speakers made for example.
Virtual Venue Events
Our virtual venue can be used exclusively for online events and also integrates with our venues for your hybrid event needs. There are a wide range of event types that our virtual venue can be utilised for and is not limited by the following:
Virtual meetings (board meetings, client meetings or round tables etc.)
Virtual conferences
Virtual training
Virtual exhibitions
Webinars
Virtual panel discussions/ virtual
Q&A sessions
Virtual workshops
Virtual roadshows
Virtual product launches
Virtual team building
Virtual recruitment fairs
About MDA Training
We selected MDA Training as our partner for this venture as we have worked with them for more than 20 years and have first-hand experience of their passion and dedication to providing a first-class and innovative service for their clients.
Since the Covid-19 pandemic hit, they invested heavily in their technical capabilities and are now a trusted partner for interactive virtual and hybrid events. They custom-built the virtual venue, a unique product that has already delivered many world-leading virtual events.
With more than 30 years of experience, MDA Training are highly experienced at running virtual events and can manage part or all of the event production, from managing virtual logistics and dealing with technology-related issues, through to hosting and preparing key speakers.