Meeting Rooms in London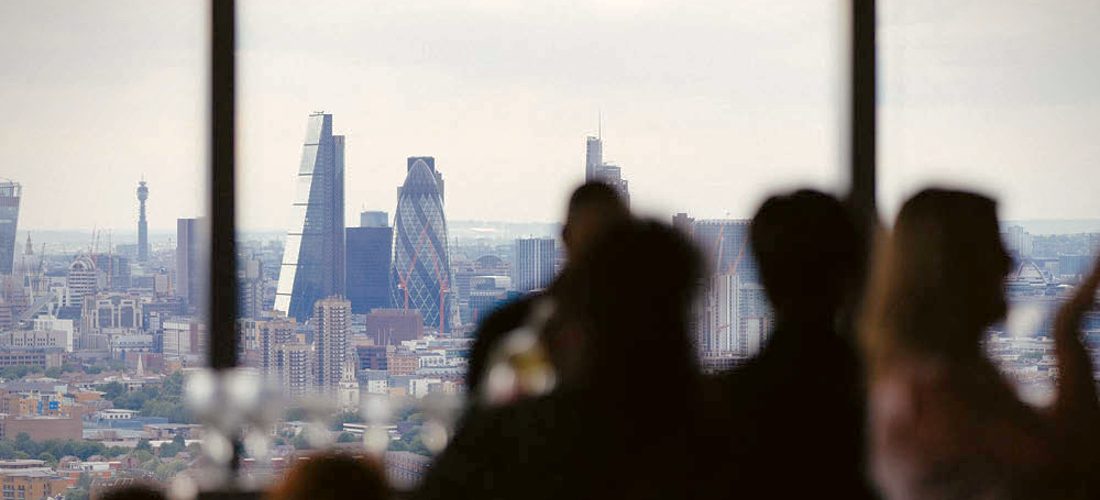 Whether you're hosting a corporate meeting or something a little more relaxed, our rooms offer modern and bright spaces for all occasions. We pride ourselves on tailoring our solutions to suit your exact requirements, whatever your industry, however big or small your meeting. As well as superior meeting facilities, we also have a wide range of food and drinks packages to choose from, provided by our team of award-winning in-house chefs. All our meeting venues are easily accessible no matter where you're travelling from, making CCT Venues the ideal choice for meetings in central London.
Book Your Perfect Meeting Room
Have a meeting planned and need help finding the perfect venue? Let our venue specialists source your next meeting room in London! We'll take care of everything, from greeting you on arrival to wrapping up at the end of the day. Simply head over to our enquiry section and specify your needs, choose the date, number of attendees and venue. We'll then get back to you with our available options!
Enquire Today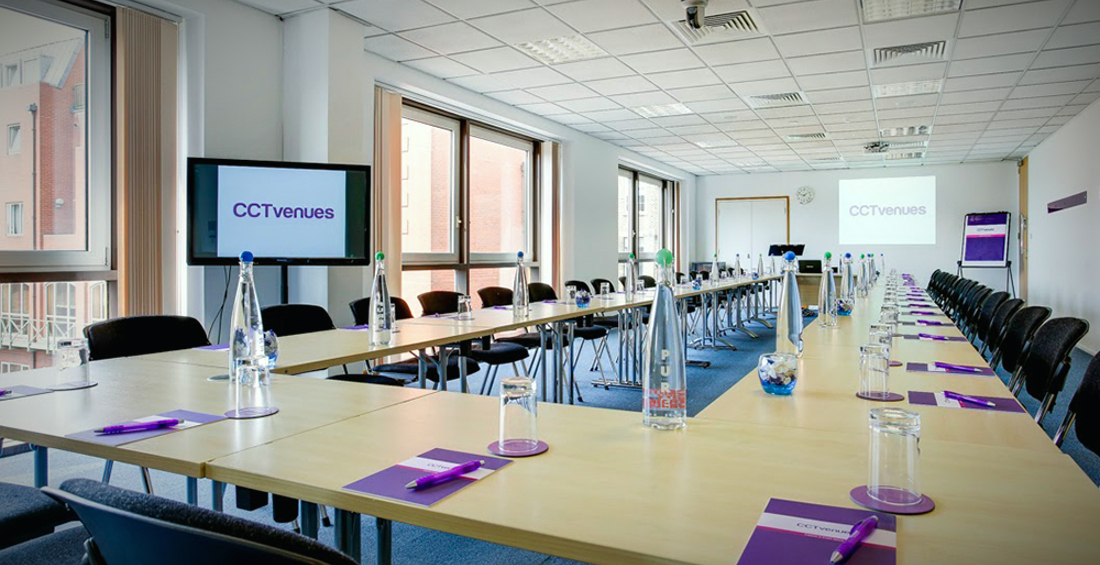 Barbican Meeting Venue
Our Barbican venue is the perfect choice for your next meeting in London. A sleek and professional five-storey building, centrally located in the heart of London for easy accessibility. Not only does this venue offer bright and contemporary meeting rooms that offer fantastic views of central London, but it also features state-of-the-art equipment, modern decor, as well as a spacious restaurant where you can enjoy meals freshly prepared by our catering team!
View Our Barbican Meeting Venue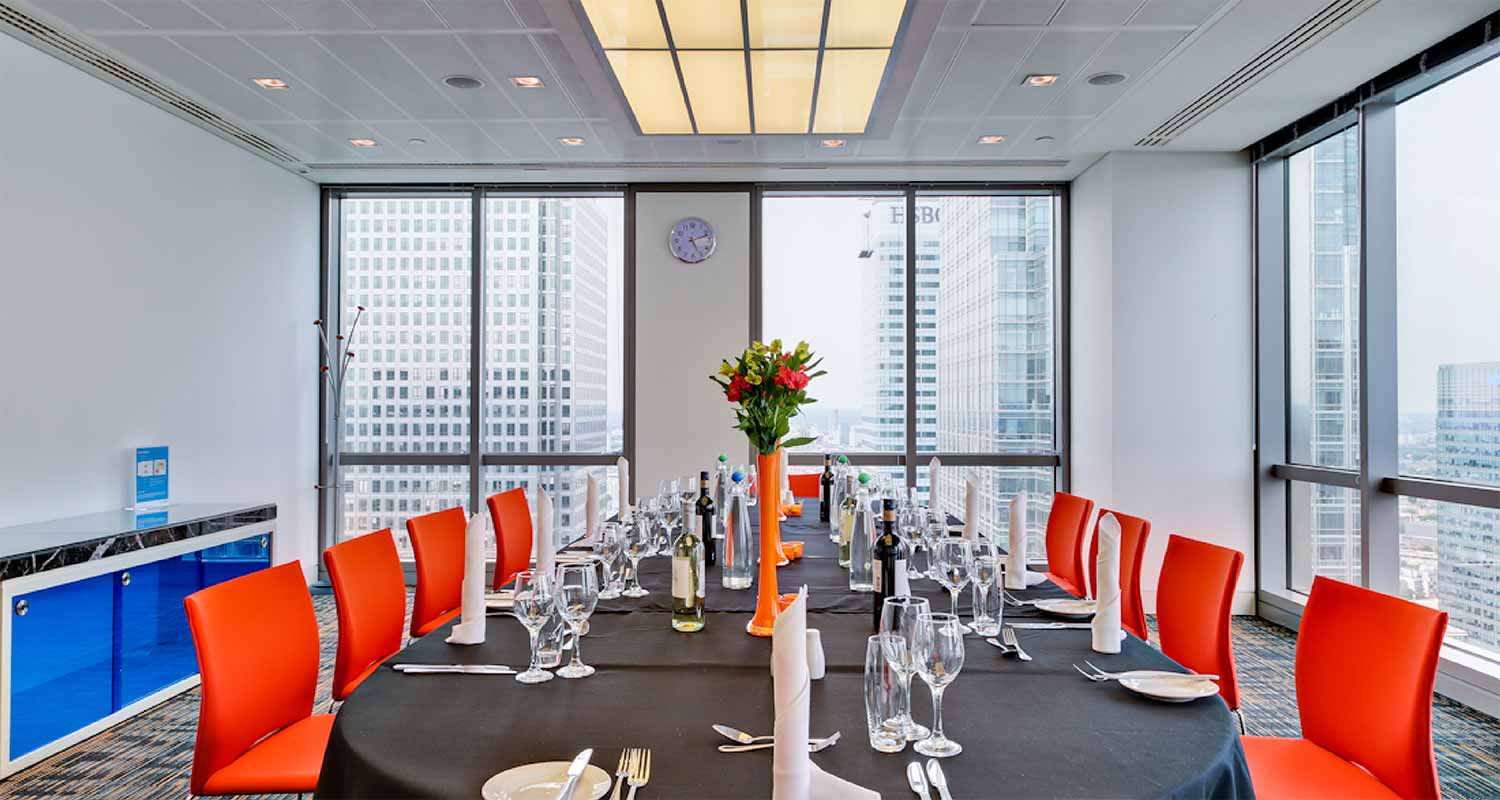 Bank Street Meeting Venue
Our Bank Street meeting rooms offer the perfect setting for your next business meeting in the city. This fantastic venue, located on the top floor of a 32-storey building with floor-to-ceiling windows, makes the most of breathtaking views of central London. With slick meeting spaces suited to all manner of businesses and industries, an award-winning catering service and a convenient location, our Bank Street meeting rooms are the perfect solution for meetings in Canary Wharf.
View Our Bank Street Meeting Venue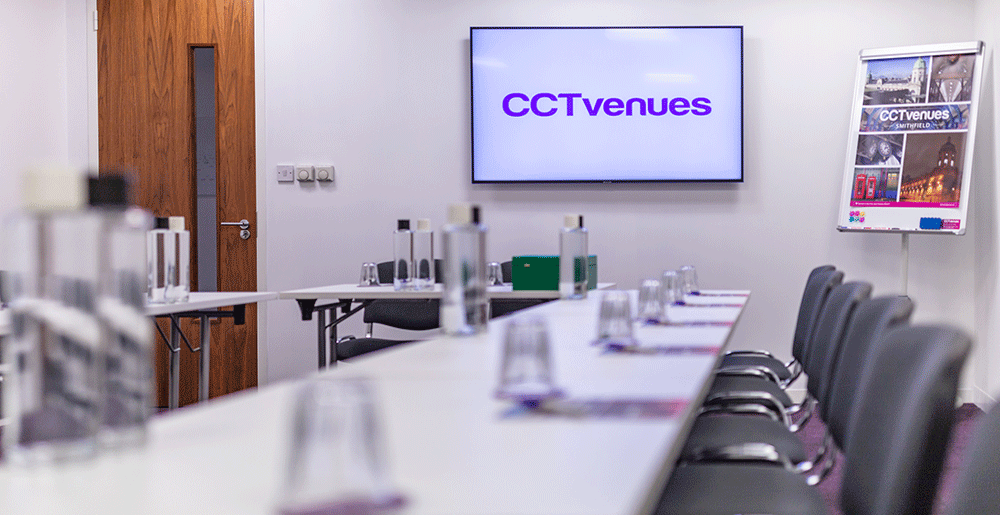 Smithfield Meeting Venue
Our Smithfield venue is the answer to the increasing demand for creative London meeting rooms. The venue has recently been refurbished to give the venue a modern appearance and has been designed to boost productivity and engagement. With all the features of our other two venues, including a full range of catering options and the same accessibility via rail or road, our Smithfield meeting rooms offer businesses cool, creative spaces to host your next meeting.
View Our Smithfield Meeting Venue
Meeting Room Facilities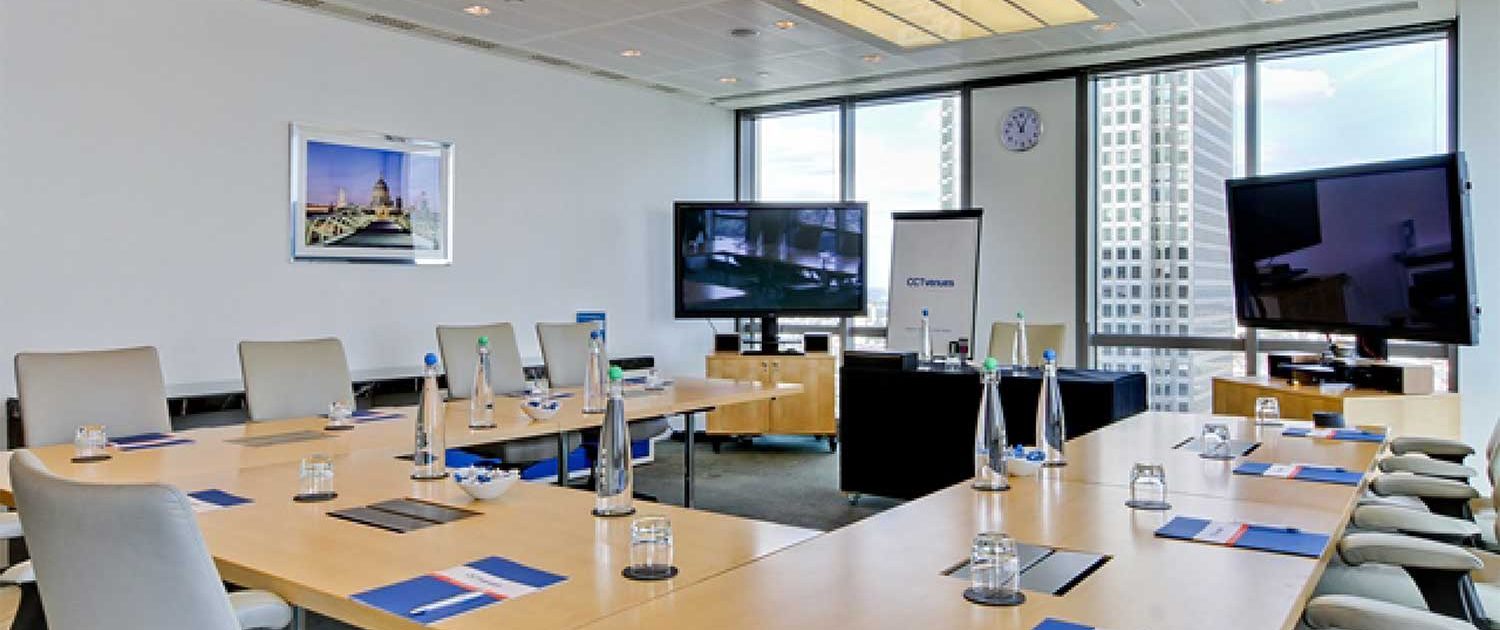 All of our London meeting rooms offer spacious, comfortable surroundings, with plenty of natural light and access to all the amenities you'd expect from a modern meeting space. We'll ensure you're provided with everything you might need so that productivity and enjoyment are prioritised from the outset. We're flexible, with scalable rooms and packages to suit all budgets and meeting types, but our core offering includes:
Open spaces filled with natural light
High-speed Wi-Fi (100MB)
State-of-the-art tech
PA Systems
Plasma Screens
Video conferencing facilities
On-site audio visual technicians
HD Projectors (6000 Lumens)
We can provide a range of options to suit your event style and size, including additional break-out rooms for groups that need them. We have an award-winning catering service with food upgrades available on site! Our versatile spaces can be set up in a range of different layouts – just let us know what you're looking for when you enquire, and we'll be able to deliver your perfect meeting.
We are an award-winning venue group with an extremely high customer satisfaction rating – reflected in these generous testimonials left by our clients. Choose us as the venue supplier for your meeting, and we guarantee you won't be disappointed.
Catering For Your Meeting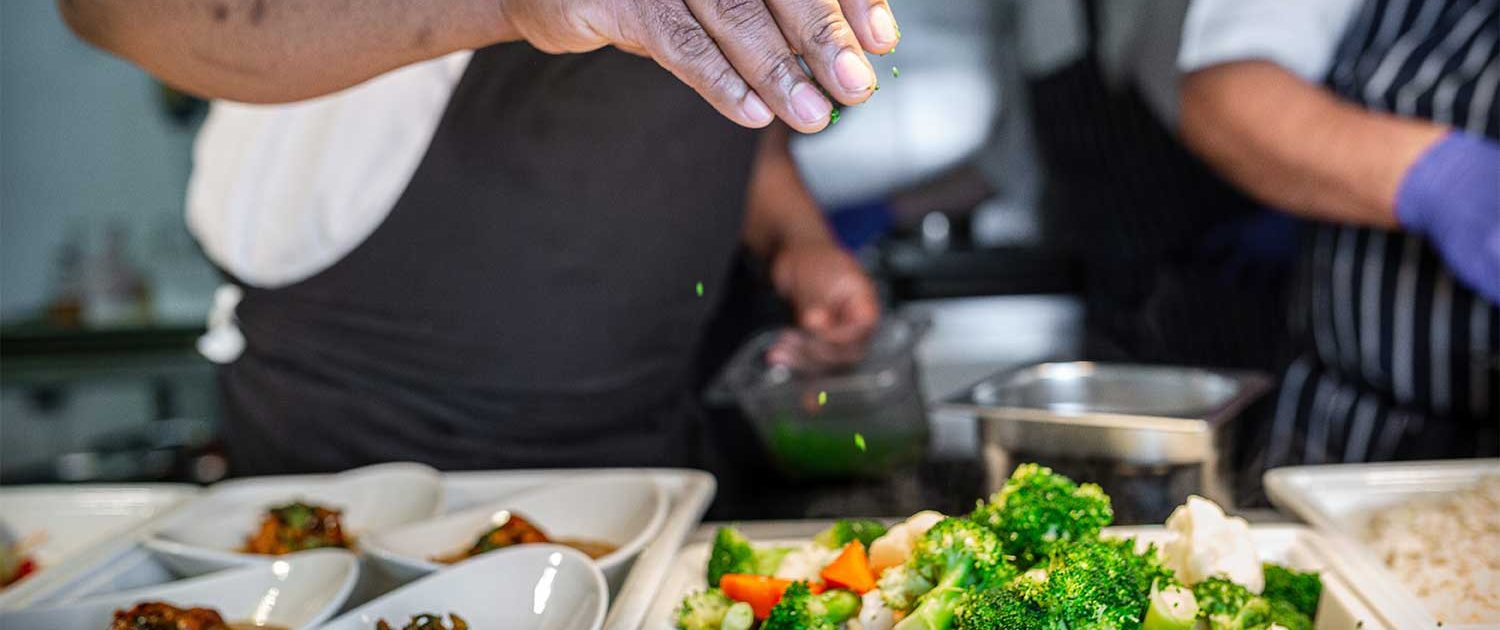 Our menu covers all occasions, from snacks and canapés to breakfasts and evening meals. We have a wide range of dishes for meeting events – whether it's breakfast for an early morning start, a plentiful lunch to keep everyone invigorated or dinner to wind down at the end of the day; there's something to suit everyone on our expansive menu!
Our Executive Head Chef Jamian Lewis draws upon twelve successful years in events catering, with many awards under his belt, assuring that nothing less than world-class cuisine is served at a CCT Venues meeting event.
Please view our different menus to get a flavour of what's on offer:
We know that after a long day of meetings and discussions, your team needs some time to wind down. Our catering services are included in day delegate packages or available as an optional extra for those who want more time away from their desks – simply add to any meeting room package. When coupled together with our break-out areas, which provide comfortable lounging spaces, it's a perfect solution if you're running a series of meetings and want a space to talk about something other than work.
Meeting Rooms Day Delegate Rate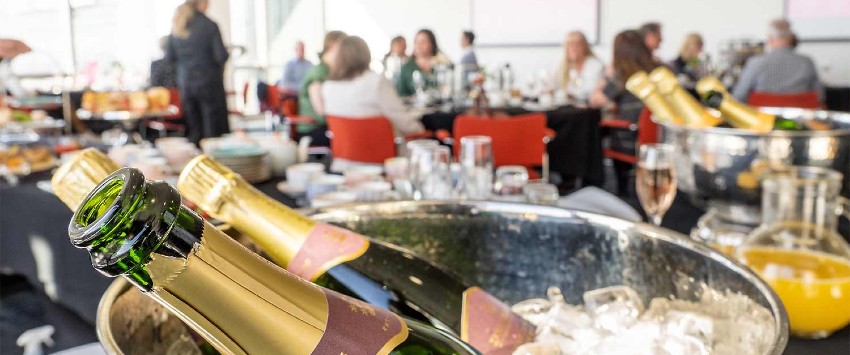 Our day delegate rate package offers a cost-effective solution for your business meeting. It's simple, choose the meeting room that best suits your event, pay a flat rate for each attendee, and we'll do the rest.
Starting at just £59, our day delegate rate packages include:
Meeting Room Hire – Including bright and airy spaces, state-of-the-art tech, and free stationery.
Drinks & Refreshments – As many cups of tea and fresh bean coffee as you like, available at any time of the day.
Breakfast Options – Including fresh fruit and juices, cereals and pastries, along with yoghurt and fruit compote.
Snacks – We keep mid-morning and afternoon snacks varied from day to day but include options such as homemade cereal bars, waffles, pastries and smoothies in the morning, along with scones, cakes and muffins in the afternoon.
Lunch Options – Always freshly prepared on-site, we offer delicious hot and cold buffets for meat-eaters, pescatarians, vegetarians and vegans.
Working Lunches – Short on time? You can always request to have your lunch on the go in your meeting room.
You can also level up your breakfast to one of the upgrade options; choose from our indulgent 'American Diner' package or our healthy 'Breakfast Booster' option.
Meeting Room Hire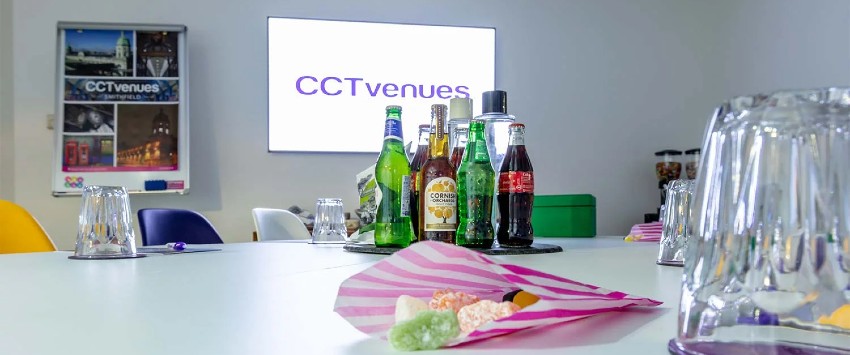 If you don't require all of the features and benefits offered in our day delegate rate package, booking your meeting room on a room-only basis may be preferable. You'll pay a flat fee to hire one of our central London meeting rooms, regardless of how many delegates attend your event.
Equipment will still be included and you'll have free reign of the meeting space to use exactly how you need it, just omit the catering options from your experience with us. Should you change your mind or desire meals, snacks or refreshments – they can be added to the cost of your meeting room hire.
For more information regarding meeting room hire costs, get in touch with the team or enquire online.
Bespoke Meeting Room Package
Can't find a package that suits the needs of your event? We offer bespoke meeting packages for such occasions! Head to our enquiry page, where you can specify your exact requirements, and one of our helpful team will get back to you.
Create Your Custom Meeting Package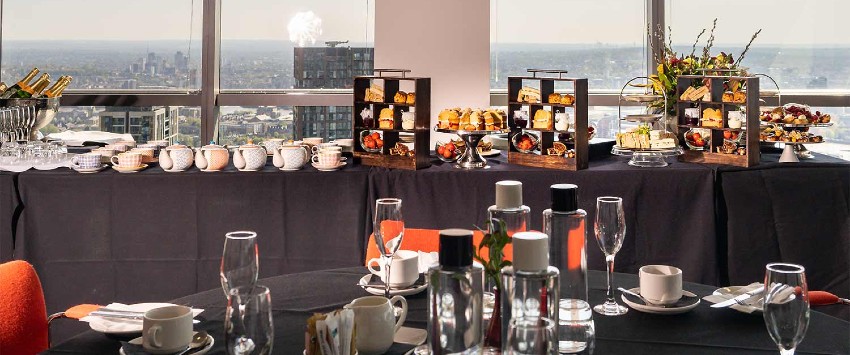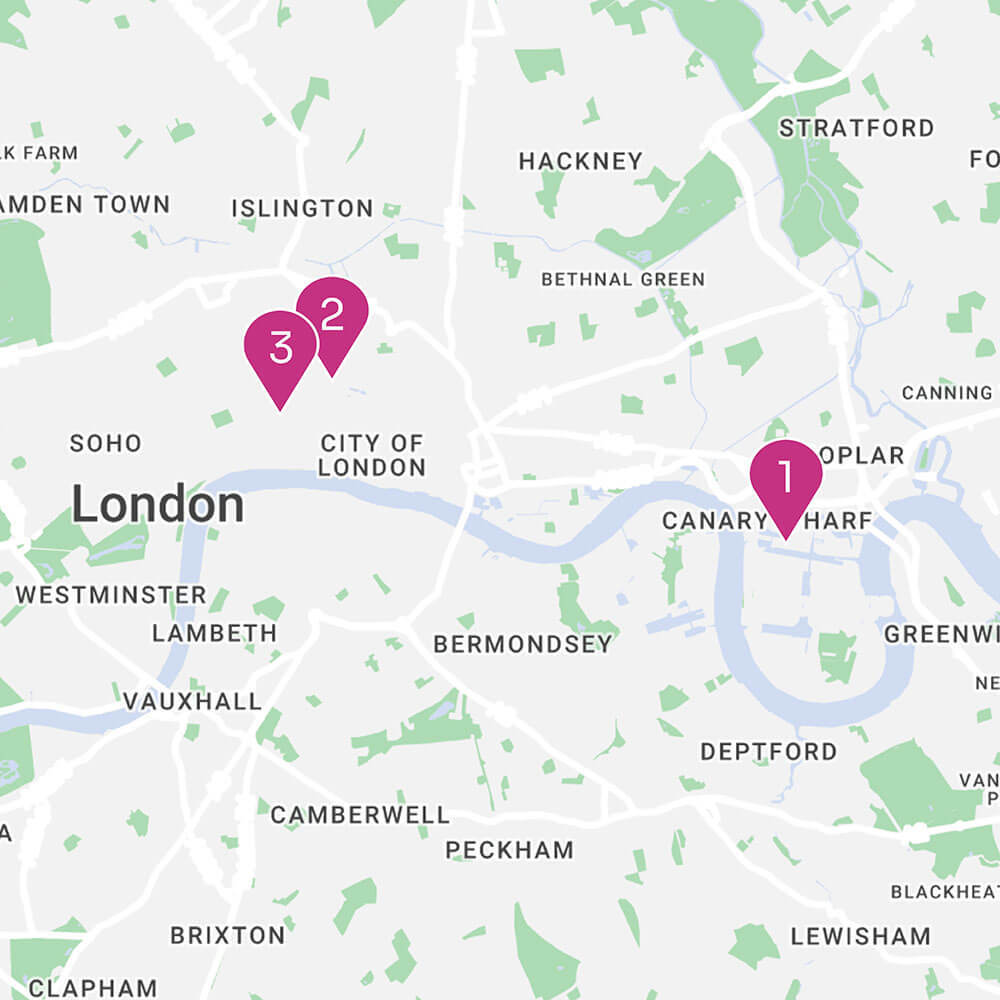 How To Find Our Venues
1. Bank Street: E14 5NR
Our Bank Street venue is just a 1-minute walk away from Canary Wharf Underground and Heron Quays DLR stations. This venue also has bicycle parking facilities, and lockers are available on request for all the cyclists out there. Get directions to our Bank Street meeting venue.
2. Barbican: EC1A 4JA
Our Barbican venue is on the corner of Aldersgate Street and Long Lane, less than a minute's walk from the Barbican Underground Station and a two-minute walk from the Barbican NCP car park. Get directions to our Barbican meeting venue.
3. Smithfield: EC1A 9PT
Our Smithfield venue is located in a lively area in a unique and fashionable part of the capital. Farringdon and Barbican Underground Stations are less than a five-minute walk away, and Kings Cross Station is one stop from our Smithfield venue. Get directions to our Smithfield meeting venue.
Find Your London Meeting Venue
Praise For Our Meeting Rooms
Ask Us About Our Meeting Rooms